| | | |
| --- | --- | --- |
| | | |
| | | |
© 1997-2014 Water World Productions, formerly Trawler World Productions. All rights reserved. Reproduction of material from any trawlersandtrawlering.com page without written permission is strictly prohibited. Any copyrighted images remain the property of the copyright owner and are believed to be used with permission. Unsolicited letters, e-mails, articles and other materials submitted to us may be published, distributed and stored by Water World Productions and its assignees in whole or in part, in print or by any other means, including but not limited to electronic, and may be edited for clarity and space.

Trawlers & Trawlering and its abbreviation T&T, I'd Rather Be Trawlering, Passagemaking Under Power and its abbreviation PUP, Trawler Buy-Sell-Trade, Trawler News, Circumnavigator, and Power Catamaran World are trademarks of Water World Productions.

Show your passion. Purchase Trawlers & Trawlering shirts, logbooks and other gear by clicking on the above graphic.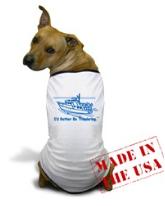 Most popular trawler forum in the world

Click the banner to access the informative forums at TrawlerCrawler.net