Al and Jane Castleman of Fine Romance
They have taken up the cruising life because they are "curious people who love to discover new stuff"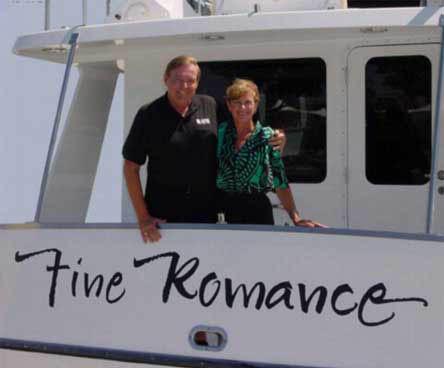 Al and Jane Castleman aboard Fine Romance, their Royal Passagemaker 57, in San Diego.
Al Castleman has been boating since his teenage years and Jane since their second date while in college. They sailed, including racing, for about 25 years, then also acquired a ski boat (the first power boat) when their children were teenagers. Converted completely to power boating 10+ years ago . . . aboard ever larger boats.
The Castlemans have been full-time live-aboards since the spring of 2000—aboard the Royal Passagemaker 57 Fine Romance which was built by Park Isle Marine on Vancouver Island.
They cruised throughout British Columbia in Canada and the Pacific Northwest before coming down the west coast to San Diego. They are now planning their next leg and preparing for same: south through Mexico, Central America, Galapagos Islands, Panama Canal, and on to Florida, then to the British Virgin Islands. They expect to depart San Diego on or about November 1, 2002.
Q: You have indicated that the British Virgin Islands are your destination in this phase of your travels. Why the BVIs?
A: Terms of our contract for construction of Fine Romance included certain financial concessions from the builder in exchange for our agreement to present her at selected boat shows after launch. The public response to the boat in all respects has been fantastic. She has received "people's choice awards" wherever she is seen. Many visitors have inquired about our willingness to consider chartering her. After we moved aboard, we invited many people with us on cruises and discovered how much we enjoy having others aboard. It has been very stimulating to meet and get to know new people, and seeing through their eyes greatly enhances our enjoyment of our home and new places. Years ago, we had talked about owning a bed and breakfast inn, so chartering Fine Romance is simply a version of that idea. Once we began talking seriously about crewed chartering, we recalled our wonderful 1996 charter in the BVIs, a place we hoped to return to someday. Being one of the world's best cruising grounds close to the U.S., it (the BVIs and Lower Antilles) seemed like a good place to begin.
Q: Do you cruise alone or with crew? Between the two of you, who does what when you're on a passage?
A: When passages can be arranged to be 18 hours or less, we cruise alone. On longer passages, we have had extra crew. Our role division is pretty traditional: together we plan trips, and both of us do watches. In anchoring, mooring or docking, Al handles the helm and Jane handles rodes or lines. Al does the spares and route planning, programs routes and waypoints, and maintains ship's mechanical and electrical systems. Jane does provisioning, cooking, household maintenance, and helps with mechanical maintenance, troubleshooting, and spares acquisition.
Q: What has been the highlight or highlights of your cruising life so far?
A: Actually, it seems amazingly like all highlights! Al, especially, has enjoyed the growing confidence that we can do this. And we both have tremendously liked living in different places, since we read local newspapers and books, try new things, and get around to see a lot. We've seen spectacular sights, met a lot of nice people, and made many new friends. We like the atmosphere of docks and harbors, where there is a level of neighborliness that we didn't have on land. Along with physical closeness, there is a lot of activity, shared problems and issues, borrowing and lending of tools and provisions, and the camaraderie of getting together for meals, or dominoes, or a movie. For us, the cruising lifestyle has been wonderful!
Q: What was the lowest point and how did you overcome the situation?
A: The low points have been the frustrations associated with debugging new systems-water supply, tank monitors, hydraulics, autopilot, genset cooling. We have been encouraged by other boaters that "this too will pass" and it is passing, month by month. We are learning the idiosyncrasies of our systems, what it takes to maintain them, what we are--and aren't--willing to do ourselves. We prop each other up, and the dream props us up.
Q: How do you communicate with family and friends?
A: We have cobbled together a system out of cell phones, satellite phone, and, here in San Diego, a land telephone line. We are very, very dependent on our computers for email, and for information over the internet. The data transmission rate by sat phone is unacceptably slow, a major disappointment, but things in the telecommunications industry are changing very fast. Before we leave San Diego in November, we plan to access email either through SSB, or KVH TracVision satellite antenna, since we already use it for television programming. We also plan to develop a page at the back of our website but unlinked to it, in other words not accessible unless you know the URL, where we can display personal photos, and logs and stories for our family and friends.
Q: How have you prepared to deal with medical emergencies, should they arise, far from home and help?
A: We are certified in first aid and CPR, we carry a lot of first-aid and orthopedic supplies, and something called the "Home Health Handbook" that helps us troubleshoot new events. Before we leave the U.S., we will be changing our health insurance to a policy that allows us to access medical care both inside and outside the U.S., including emergency transportation to the U.S. We have considered signing up with Dr. Daniel Carlin's "Voyager Medicine" if we go beyond the Caribbean, and/or develop any degenerative conditions. At this point, we are both in good health and not looking for trouble.
Q: How have you prepared to deal with mechanical problems? Are you natural-born mechanics? How did you learn to look after the many systems on your 57-foot ship?
A: No, we're not "natural-born mechanics" but we're both logical, and engineering- or systems-oriented, you might say. While we lived in Orange County, we took many Orange Coast College Sailing Center courses, such as diesel mechanics and electrical systems. Our boat builder outfitted us with a complete set of tools, made sure we had all the manuals for our systems and equipment, and trained us to understand and maintain them. We both took notes, and combined them into a comprehensive notebook, with maintenance schedules. We own other books, get help from fellow cruisers, get professional help when required and ask a lot of questions to learn from them.
Q: How do you watch the weather? Any heavy weather in your cruising to date?
A: Al has training in weather from Orange Coast College, and his Captain's license classes. He tracks the weather using the TV weather channel and weather via radio. We have a WeatherFax aboard and Nobeltec Weather Service is available to us via the web. We did have some heavy weather (50-knot winds and 10- to 12-foot seas) crossing the Straits of Juan de Fuca in January, and coming down the Oregon coast in September, but, to be honest, the tidal range and currents we experienced in Canada were much more challenging than the weather has been.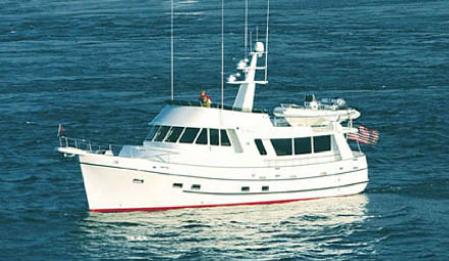 Q: How did you settle on the Royal Passagemaker 57 as your dream ship? What were the other candidates?
A: Knowing that we wanted to acquire a trawler yacht for our full time home and do extensive blue-water cruising, we first developed a very comprehensive set of specs for what we wanted—hull form, format, layout, materials, systems, equipment, and amenities. We then started looking worldwide for a used vessel that came closest to (or could be retrofitted to) meeting our specs; after two years of looking, nothing came close. We turned to looking at new "semi-production" boats--Nordhavn 62 and 57, Northern Marine, Delta, plans for the Grand Alaskan, and a few others—but concluded that the quality and value just weren't there, given the cost. Thus, we settled on building a "custom" yacht using a well-proven trawler hull. After interviewing virtually every boatbuilder in North America, we identified Park Isle Marine in Victoria, British Columbia. We were very, very fortunate to find a builder whose trawler philosophy matches our own and whose motivation, honesty and integrity is unmatched in the maritime industry as we have known it. See our website on the "yacht" page under "article" for the whole answer to this question.
Q: What was your last boat (make, model and name) prior to Fine Romance?
A: When we were developing our specs for our future sea-going home we concluded that the pilothouse format was best for us, but were we really sure? We decided to test the pilothouse idea without spending a fortune, by buying a boat that we could sell quickly when we were sure. Thus, our last boat before Fine Romance was a 1990 Bayliner 4588 named Brief Romance (What else!), obviously a planing hull, but we were primarily evaluating layout. Yup! We confirmed that the pilothouse format was the right answer for us.
Q: Do you still own a shoreside home? If yes, where? Where is your home port?
A: No, we don't have a land home, but we do have our furniture and keepsakes in storage near a piece of property we own in the San Juan Islands. "Home" is where the boat is, and where we're enjoying ourselves. If we're lucky, we'll be able to be world travelers for some (unknown) number of years.
Q: Before you took up cruising fulltime, what careers did you have? Where?
A: Al was a financial and systems consultant and chief financial officer of several high-technology companies in Silicon Valley, and Southern California. After raising our children, Jane worked in the human services field, and completed a graduate degree in counseling, although we moved aboard before she could use it.
Q: How many children do you have?
A: We have a son and a daughter, neither of whom is married, and no grandchildren. Both sets of parents are gone, the dog died We consider ourselves a close family, and are committed to staying close.
Q: What made you decide to go cruising full time? What motivates you to travel?
A: We have had boats throughout our 40 years of marriage, Al even longer. Our first boat was a way of having something to do together to build closeness. We love to travel, and hope that we will come to understand the world better as we continue. We love the stimulation of learning new things, especially now that we're retired. We love to be with, and entertain, friends, and have found them eager to see what we're up to, so we have wonderful visits on the boat, and have not--yet--lost touch with them, indeed maybe the reverse. At bottom, we're just curious people who love to discover new stuff.
——
Editor's note: Since this interview, the Castlemans have cruised far and wide—and enjoyed discovering new stuff immensely. After 10 years, Fine Romance is for sale as the Castleman's retire to an island in Washington's San Juans.
RELATED