Kadey-Krogen Yachts celebrates 30 years
New Krogen 55 Expedition trawler yacht features 3,000-plus-mile range, all-new interior layout and styling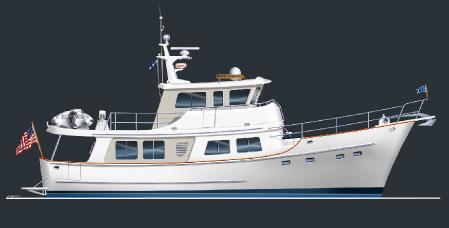 Kadey-Krogen Yachts of Stuart, Florida, announces the introduction of the Krogen 55 Expedition, once again setting a new standard for long-range full displacement trawler yachts.
The Krogen Expedition offers rugged globetrotting capability and technologically advanced construction features, plus new exterior styling with a handsome sheer and a graceful raked bow. Innovative interpretations of Kadey-Krogen's home-like comfort and highly sociable interior spaces highlight this all-new design; the living area is nearly 25 percent larger than that of other comparably sized vessels.
With a length overall (LOA) of 59' 0" and length on deck (LOD) of 55' 0", Kadey-Krogen's Expedition boasts superb size, style and comfort constructed in fiberglass through the outstanding craftsmanship of Asia Harbor Yacht Builders, Taiwan-exclusive builder of all Kadey-Krogen yachts.
While all current production Kadey-Krogen trawler yachts are proven bluewater passagemakers, the Krogen 55 is an expedition-style globetrotter with a range of well over 3,000 miles at 8 knots, or the equivalent of nonstop from Annapolis to Antigua at 9 knots. She has an ample fuel capacity of 1,800 gallons. Sure and steady twin John Deere 6068 TFM M1 Tier 2 engines power her, each achieving 158 HP. To support this propulsion, the underbody features twin counter-faired skegs—a Kadey-Krogen innovation for maximum efficiency. Judging from proven past performance of this configuration, the result will be superb tracking, a wonderfully stable ride and solid, no-nonsense performance particularly in following seas.
"The hull form and hydrostatic data for the 55 fall right in line with our other pure displacement trawler yachts–the 58, the 48, the 44 and the 39," says John Gear, president of Kadey-Krogen Yachts. "But the crowning achievement of this yacht, I believe, is the way the entire design—a comfortable, friendly and superbly capable long-range bluewater traveler—embodies our company's core values of capability, liveability, family and value. Only Kadey-Krogen, with more than 500 yachts and 30 years of experience in full displacement trawler yachts, could produce such a clearly-focused and high quality design."
In conceiving the vision, value and superior quality in this new yacht, Kadey-Krogen began with in-house talent including staff naval architect Jimmy Krogen of the venerable naval design and architecture firm James S. Krogen & Co. The Kadey-Krogen team worked together with Tom Fexas Yacht Design, Inc., to integrate and refine the new design concepts to ensure that the vessel remained true to Kadey-Krogen structural principles. Throughout the development stages they conferred with owners of current Krogen models to refine arrangement and detailing.
"Our boat owners' input and cruising experience is key to this company," says Larry Polster, vice-president at Kadey-Krogen. "They keep us focused on designing and building yachts for liveability. And in this case, thanks to our customers, we've created a truly superior bluewater traveler in a very reasonable size."
The balance of form and function in the Krogen 55 Expedition will be evident as soon as you board. Characteristic of all Kadey-Krogen yachts, a roomy, comfortable and highly functional pilothouse serves as navigation area and living space. There is the fully covered aft deck or "back porch" from which to enjoy your surroundings whether you're entertaining guests, reading a book, or enjoying a snooze. Forward from the aft deck through welded aluminum weather-tight doors is the saloon or, more aptly, "the living room" as this space is a quarter larger than that of other comparably sized vessels. The portside galley remains amidships, directly adjacent to the saloon, so those who are prepping and cooking are still a part of the conversation. This galley is particularly well appointed with top-of-the-line appliances including a Viking range, Jennair refrigerator, Miele dishwasher and more.
Moving below and forward, the interior space of the Expedition allows both two-cabin and three-cabin arrangement options. Each features the master stateroom forward to take advantage of natural light and fresh breezes. The master has a full head en suite that includes a spacious shower stall. A second head is opposite the starboard stateroom(s). Those familiar with Kadey-Krogen will recognize the natural flow and comfortable look and feel of the living quarters, as the 55-foot Expedition model reflects the experience that only can be gained in 30 years of building liveaboard passagemaking trawler yachts.
The engine room and machinery area offer ready views of and access to all equipment, plumbing and wiring–a Kadey-Krogen hallmark. "We don't believe you should have to remove a panel to find what you are looking for," says Tom Button, vice-president of operations at Kadey-Krogen. "You can identify and respond to any maintenance need quickly and easily."
Celebrating 30 years in business, Kadey-Krogen Yachts is headquartered in Stuart, Florida, and has sales headquarters in Annapolis, Maryland, as well as an independent sales office in Seattle, Washington. The company builds five lengths and designs of full displacement trawler yachts from 39 to 58 feet LOD.
Specifications:
Length on Deck: 55'-0"
LOA (including swim platform & pulpit): 59'-0"
LWL: 49'-5"
Beam (over rub rail): 18'-0"
Draft at Keel (half load): 4'-8"
Displacement (half load): 82,250 lb. approx.
Height (above DWL not including Mast): 17'-7" approx.
Fuel Capacity: 1800 gal.
Water Capacity: 520 gal.
Black Water Capacity: 140 gal.
Gray Water Capacity: 140 gal.
Range @ 8 knots: 3000 nautical miles (estimated)
Main Engines: John Deere 6068TFM M1, Tier 2, 158 BHP @ 2400RPM
CONTACT INFO
Kadey-Krogen Yachts
815 Colorado Ave., #101
Stuart, FL 34994
Tel (772) 286-0171
Fax (772) 286-8487
Toll Free (800) 247-1230
crew@kadeykrogen.com
www.kadeykrogen.com
---
When Trawlers & Trawlering posts press releases that we receive, we post them for what they are, publicity releases from boatbuilders, designers, dealers and others which represent the viewpoint of those same builders, designers, dealers and others. The discerning reader may need to apply a grain of salt.
Trawlers & Trawlering posts the releases for general information purposes, without any verification or endorsement.
Members of the trade are encouraged to ensure Trawlers & Trawlering is on media contact lists. For snail mail and other contact info, click here.