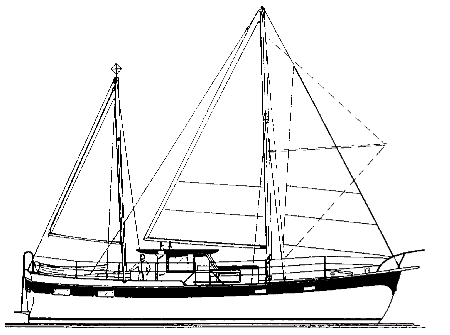 Salty in appearance, comfortable at sea, and efficient when passagemaking, that's the original Passagemaker.
A lasting legacy
Beebe laid down the principles for proper passagemakers that are still followed today
What is it that Beebe pronounced more than a quarter-century ago that has had such lasting impact? He believed a boat capable of voyaging under power should have these features:
--A reliable and consistent means of reducing rolling, because crew comfort is a must.

--Ability to operate under autopilot, one of the great advantages of an engine-running-all-the-time vessel.

--Still-water range of 2,400 nautical miles.

--Capability of single-handed operation, necessary for a proper passagemaker to be operated by a husband-wife crew.

--An ideal LOA of around 50 feet.

--A secure place for the single watch-stander to go outside the pilothouse to observe surroundings.

--A balance of good in-port living space and the necessary seaworthiness for ocean voyaging.

--Lifeline stanchions 40 inches high in exposed areas.

Beebe's light shone brightest when he delved into the technicalities of ocean-going motorboats. Among his conclusions:

--A satisfactory ocean-crossing vessel cannot have a displacement/length ratio (D/L) less than 270 in the 50-foot overall size. The shorter the vessel, the larger the D/L should be.

--Speed-length is the most important ratio. Hull speed is only of academic interest, as S/L ratios between 1.1 and 1.2 encompass the practical speeds for power voyaging.

--The ratio of the vessel above water to that below water should be in the range of 2.1 to 2.6 for safe passagemaking.

--A prismatic coefficient (PC) between .50 and .60 makes the most sense.

After VUP went through two editions, Jim Leishman of PAE was invited to update the book. The result was the third edition, published in 1994 by International Marine, and available widely.




RELATED:
Beebe's famed Passagemaker for Rescued
Before he died in 1988, Robert Beebe designed more than 150 vessels, none more famed than his 67th design which he built for himself and named Passagemaker.
Beebe Collection at Mystic Seaport
The Capt. Robert P. Beebe Collection consists of plans and manuscript material from the personal collection of Robert Beebe. The vessel plans were a 1999 donation presented to Mystic Seaport by his widow, Linford Donovan Beebe. His daughter, Lucy Beebe Tobias, consequently donated her father's manuscripts and photographic collection.
Let's toast Robert Beebe and the original Passagemaker!