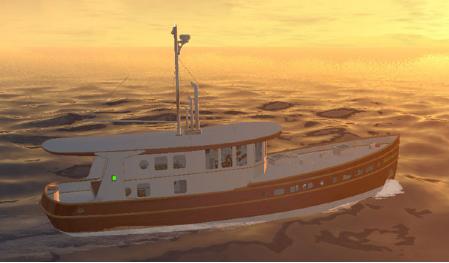 Passage of Time as she would have looked, designed by Michael Kasten and shown in a rendering by Alan Winter.
Passage of Time was to launch this summer
Here's the sad news as posted on Passagemaker Under Power List:
Many of you have followed my design and construction of Passage of Time, a 53-foot aluminum passagemaker Debbie and I dreamed up a few years ago and then had Michael Kasten design for us.
This site has been invaluable to our search for the perfect boat and the many design decisions and choices that must be made along the way. We found the builder via the related Trawler-Buy-Sell-Trade List and, of course, as we started building, we engaged T&T's very own Arild Jensen to tweak our electrical design into a really cool set up for us. Passage of Time was set to launch and "hit the water" in late summer. The final welding was nearly complete; the carpenters and electricians were busy at work, systems were on the way . . .
On Monday disaster struck.
In what appears to be an incredible freak accident with a welding spark bouncing off something, through a porthole, and into a small garbage bag that had some trash insulation-that immediately roared into a fire that could not be contained-Passage of Time was destroyed.
By the time the extinguisher was retrieved from the pilothouse, the smoke and flames were too much to handle. The fresh unfinished cherry wood caught on fire, and that was all she wrote. I will get pictures sooner or later, but it will not look pretty. The superstructure melted from the heat and isn't there. A portion of the deck itself melted away and/or collapsed into the interior of the boat. Apparently the cherry wood Debbie so loved burns rather hot.
The fire marshal is testing the insulation to see if it conforms to the fire retardant product described on the MSDS that was provided to the builder. The foam apparently went up in flame very very quickly, even though painted with fire retardant paint.
The boat is a total loss.
The insurance people are doing what they do best, crawling all over the place, testing and surveying everything in sight. The builder-in whom I have the utmost confidence and trust-was as saddened as Debbie and I were. It was bad enough for us to hear about it, they had to watch it burn. It was terrible to think of our "baby" literally going up in smoke.
Thankfully, no one was hurt and we are most grateful for that. We have come to know and befriend the builders, welders, carpenters and the collective group of people who, over the last 17 months, turned sheets of metal, wood, and wire into the beautiful boat with which we were looking forward to cruising to places frequently dreamed of.
We were really looking forward to our expected August or September launch. Looks like that will be postponed a bit, as we must start over from frame one!
The rebuild will probably go a little faster since the builders and crew "know" the boat now and, as a little silver lining, the rebuild will allow us to tweak a few areas that we believe can be improved having seen the "real thing" as opposed to a 2-D plan.
Bummer. Time for a drink! Perhaps three.
Thank goodness I had not yet found a buyer for our current boat . . .
Alan Wagner
Tampa, Florida
"Morning Delight" 1978, 44' Gulfstar MC
Building "Passage of Time" — Kasten designed 53' aluminum passagemaker
Editor's note: Alan Wagner is very much in the thoughts of everyone behind the scenes at Trawlers & Trawlering. Alan is our volunteer Trawlers & Trawlering Associate Linkmaster responsible for compiling Personal Boat Sites.