Year of the Voodoo Doll aboard Kanaloa

As the end of their second circumnavigation approaches, Heidi and Wolfgang Hass have the feeling nothing is going their way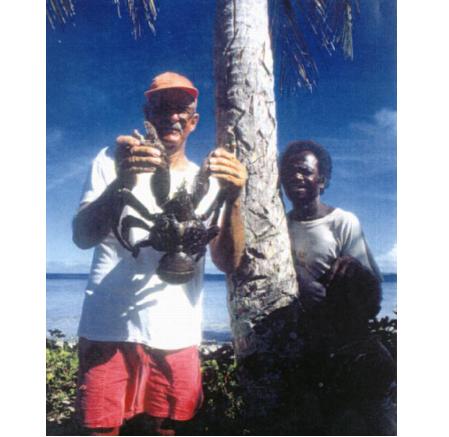 The year 2002 has brought its trials, writes Heidi Hass in August aboard the Nordhavn 46 Kanaloa, but she certainly doesn't sound daunted. Three months later they arrived in Dana Point, California, to complete a six-year circumnavigation of the world.
We had a bit of bad luck this year. It seems somebody was pointing a voodoo doll at us. Instead of dancing to Samba tunes in Rio, we had to repair the damage done to Kanaloa in Trinidad.
It all started 400 nm out of St. Helena on our way to Rio. Suddenly, we had this grinding noise from the engine room. We lost about 1 liter of transmission oil through the oil gear cooler. This was not funny in a 4-meter swell from the SW and an engine that would overheat at 1,800 rpm. We played it safe and ran with the wind and current, so we could sail if it got worse.
Next, we hit a steel drum close to Fortaleza that left a deep scratch. Customs is funny in Brazil and it is almost impossible to fly in parts or get an oil cooler repaired, so we left for Guyana. After Fortaleza, the weather turned nasty with 30 knots of wind and tons of rain from the north.
Kanaloa was very happy with the conditions and steep seas until we hit a very big underwater object at night. We broke the bolt on top of the mast where the rig is connected. The force was so strong that the stainless chimney broke in two places and was hanging on for dear chimney life in an very strange angle. I think what saved the mast was the floppers. Thanks to PAE for building such a strong rig.
We made it safely to French Guyana where we anchored behind Devil Island in heavy swell. It was there that a bigger than normal wave flooded the guest stateroom through the open port holes. Ten washing machines later, with a back-to-normal guest room, we were able to go over the shallow bar to Kourou to repair the bolt but not the chimney.
The weather did not improve and with Trinidad only 600 nm away, we left. Kanaloa is such a strong boat and she has seen worse conditions. First night out, we hit another underwater object. This time the fish jumped, turned itself three times around the cable and hit the stern of the boat. I could have cried. I have been so careful docking the boat that I never put a scratch in the hull.
Last but not least, the high-pressure pump of the watermaker quit on us in Tobago.
Except for the chimney, all was repaired in Trinidad and she looks like new. They welded the chimney, but did such a lousy job that I refuse to look up. Worse, the angle isn't right and we have this humming noise. We will try to repair the chimney again. If we can't get it properly done, we may have to get a new one. The temperature of the oil gear cooler is slightly higher. Let's hope they did a proper job.
Last but not least, everybody wants to see this "beautiful boat." We gave a big party on the upper deck for 27 people. They drank 30 liters of rum punch. Nasty me, I diluted the punch with 7 liters of strong Fiji rum. People stayed till 1 a.m. and told us, ours is the nicest Nordhavn on this planet.
In a few days, we are off to San Blas for some diving and snorkeling. I am a bit lost at the moment. I put so much work and research into going to South America that it is very hard for me to accept that we are back in the Caribbean, the last place where I wanted to be.
Wolfgang, on the other hand, isn't upset as he hates cold and wet conditions. At the moment, we are not sure where we want to sail next. I would love to come back to Dana Point in November. Then in March, Hawaii, then Papua New Guinea, and back to Australia.
Wolfgang thinks a berth may be hard to find in Southern California, and it may get too expensive for our budget. Whatever we do, I hope the person with the voodoo doll dropped dead or found another victim.
Editor's note: Heidi and Wolfgang Hass are not your typical cruising couple. They've been voyaging full-time for more than two decades. They're completed two west-about circumnavigations, the first under sail and the second in their Nordhavn 46. In mid-2006, they were somewhere in the Pacific, on their third circumnavigation.
RELATED
Kanaloa completes circumnavigation