© 1997-2017 Water World Productions, formerly Trawler World Productions. All rights reserved. Reproduction of material from any trawlersandtrawlering.com page without written permission is strictly prohibited. Any copyrighted images remain the property of the copyright owner and are believed to be used with permission. Unsolicited letters, e-mails, articles and other materials submitted to us may be published, distributed and stored by Water World Productions and its assignees in whole or in part, in print or by any other means, including but not limited to electronic, and may be edited for clarity and space.
Trawlers & Trawlering and its abbreviation T&T, I'd Rather Be Trawlering, Passagemaking Under Power and its abbreviation PUP, Trawler Buy-Sell-Trade, Trawler News, Circumnavigator, and Power Catamaran World are trademarks of Water World Productions.

Trawler World
The Trawler World name and concept were acquired by World Publications in 2003. For the record, here's our original outline for a magazine about voyaging, cruising and living aboard under power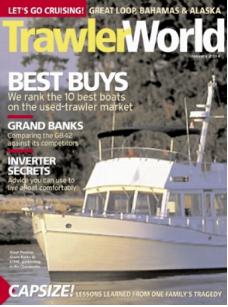 There is a new trawler magazine on the horizon.
Trawler World will publish for the first time this winter.
At Trawler World, our aim will be to become the authoritative voice on the trawler scene, enthusiastic about voyaging, cruising and living aboard under power in its many variations, devoted to our readers, and strong on honesty and integrity.
Trawler World will emphasize trawler tests and product information. We'll offer technical know-how and how-to articles. We'll feature passagemaking to foreign lands as well as cruising to destinations closer to home. We'll focus editorially only on trawler yachts and their close cousins, not picnic boats and cruise ships. We'll publish information not available anywhere else.
Trawler yachts no longer in production and used boats will be very much part of the editorial mix at Trawler World because they are so popular and significant in your world and ours. Which is not to say we'll ignore new production and custom vessels. We'll stop covering new stuff when people stop going to boat shows.
First and foremost, we will be devoted to our readers. In turn, that is how we'll serve the trawler industry effectively. Call us old-fashioned, but we believe a magazine that earns and keeps the trust and loyalty of readers is the one that serves advertisers best.
Trawler World will be published by Trawler World Productions headed by Georgs Kolesnikovs, founder of the popular West Marine Trawler Fest series of rendezvous and an experienced magazine editor. The same team produced the special edition Circumnavigator.
If you are interested in writing, photography, or working for the magazine, contact Georgs Kolesnikovs, editor of Trawler World. He'll also be glad to hear your ideas and comments about the new magazine. For advertising information, please contact Nanette Jacques.
Trawler World: Much more than a new magazine