Nordhavn's first motorsailer is launched
The new model will make its public debut at the San Diego boat show in January.The photos show the N56MS without the sailing rig installed. Drawing at bottom shows the boat with her rig.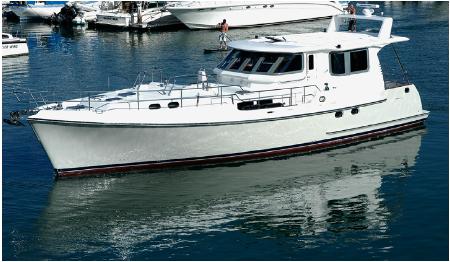 What's sure to be the next industry-shaping yacht from Nordhavn, its 56-foot Motorsailer, arrived at the company's headquarters in Dana Point, California, in late November 2008. After being loaded off a container ship in San Diego, the N56 was brought up the coast by Nordhavn salesman Eric Leishman, who sold the boat to owners Susan and John Felton, and PAE commissioning team member Bob Loeffler. "The boat runs smooth and quiet and has the feel of a much bigger boat," said Eric.
The rigging was left off purposely during transit, but will go up during December. The mast and sails, says PAE's chief of design Jeff Leishman, will only improve the ride. "Seeing the motorsailer sitting here in Dana Point next to the Nordhavn 62 and 55 really reveals her true size. So far everyone who has seen it has been blown away at how sleek it looks and how big it feels."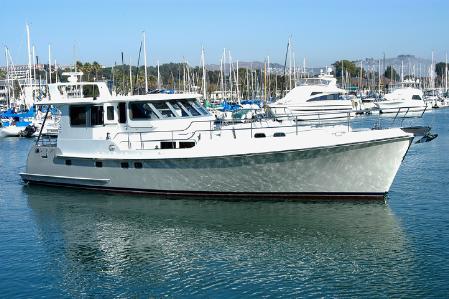 After nearly four years in the designing, tooling and construction phases, the launch of the Motorsailer closes the loop that brings PAE full-circle with its sailboat roots. Constructed at partner factory Ta Shing Yacht Building Company, the Motorsailer encompasses the same level of craftsmanship found on the other Nordhavns built there. The Taiwan-based yard currently builds five different Nordhavn models, but it originally gained fame crafting superior sailing vessels including the PAE- designed Mason sailboats. "Ta Shing's heritage of building superior quality power and sailboats, together with our talented design team, gave us all the ingredients necessary to create this truly unique and incredible yacht," said Jim Leishman, PAE co-founder and vice-president.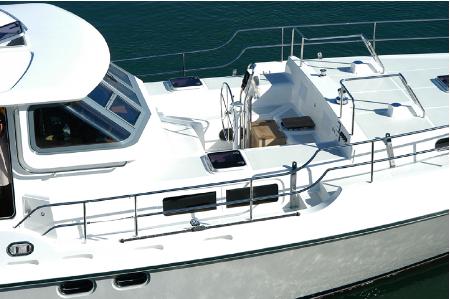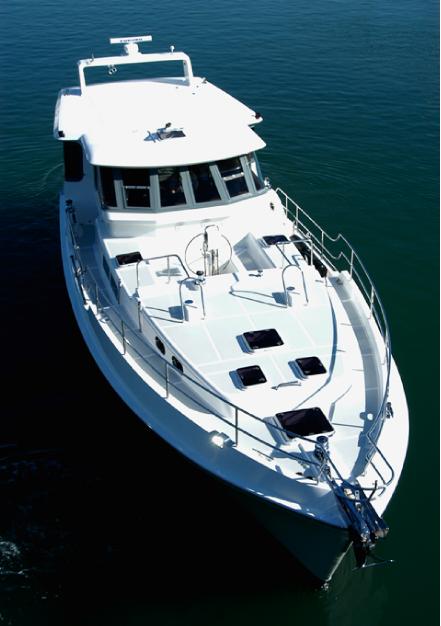 With seven orders in the books taken sight unseen, PAE expects the Motorsailer to make a huge impact on the market, similar to the way the Nordhavn 46 shook up the industry when it was first introduced two decades ago.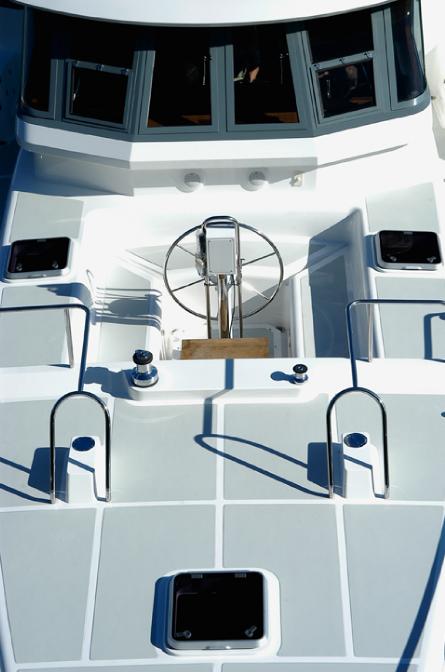 The N56 MS is a departure from typical coastal motorsailers. With her sails furled, she actually motors faster and farther than existing Nordhavns. "She's more slippery and sleeker than what we're used to. With the sailboat underbody she effortlessly and quietly motors along at nine to ten knots," says Jeff Leishman. Her efficient design will be even more noticeable on long ocean passages at slower speeds. With the engine throttled back, the propeller pitched high, and under full sail, she'll provide a quiet, comfortable, stabilized ride with constant electricity available--with phenomenal range, enough to take on the longest and toughest of ocean passages.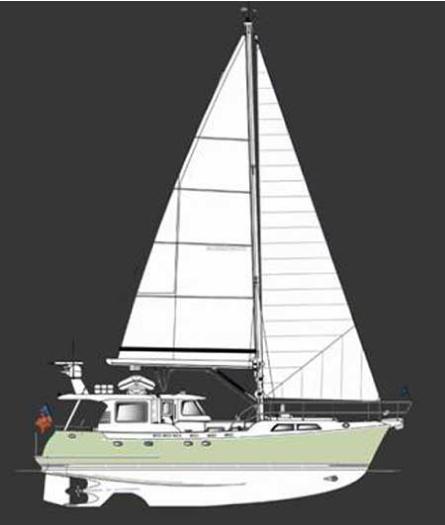 GENERAL SPECIFICATION
LOA:

LWL:

Beam:

Draft - full load:

D/L (at full load):

Water Capacity (Three Tanks):

Fuel Capacity:

Holding Tank Capacity:

Engine:

Power Output:

Sail Area:

Range under power alone:

57'5" / 17.5 m

52'6" / 16.0 m

16'7" / 5.05 m

6'0" / 1.83 m

216

250 gal / 946 l

750 gal / 2,839 l

75 gal

LUGGER L1066T Diesel

165 hp @ 2400 rpm

1,217 sq ft/ 113.1 sq m

3,000+ nautical miles


If you wish to comment on the content of this page, please e-mail Trawlers & Trawlering


Very ugly looking boat from its profile drawing. There are other much prettier and probably better sailing motorsailers out there, such as the Bruckman 50, the Hood 51. They may not be equipped with as big an engine as the Nordhavn, but if one is going to do a motorsailer, I think the emphases should be put on sailing.
--Freedom Sailor
Editor's note: We posted the profile drawing to show the rig--and how much better the Nordhavn Motorsailer looks in real life. As far as sailing capabilities go, let's see how the Nordhavn sails before we leap to judgement. Don't forget, Pacific Asian Enterprises built the renowned Mason sailboats for many years, so they know a thing or two about sailing.
Additional photos, including interior
Nordhavn Motorsailer renderings
Nordhavn Motorsailer under construction
Why motorsailers are ideal for passagemaking
Practicality favors the motorsailer concept