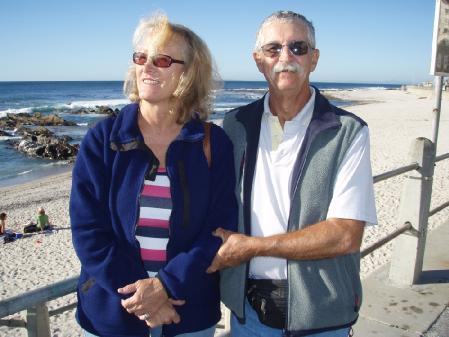 Heidi Hass is captain, navigator and cook, while husband Wolfgang is chief engineer, deckhand and first officer. He also bakes bread and makes sauerkraut.
Already there's talk of casting off again for the South Pacific
Dana Point, California - Heidi and Wolfgang Hass returned to Dana Point and the headquarters of Pacific Asian Enterprises on August 28, 2008, completing their second circumnavigation with Kanaloa, their Nordhavn 46. In doing so, the couple becomes among the first crew ever to successfully go around the world twice in a production powerboat.
The Hasses left Southern California on Kanaloa in 2003, just a year after finishing the first global cruise in their 46. During the last five years at sea, they put 4,839 hours on their Lugger and 33,567 nautical miles under their keel while visiting favorite destinations like the northern territory of Australia and the Chagos Archipelago in the middle of the Indian Ocean.
Despite thousands of hours at sea, the only breakdown suffered by Kanaloa was to her starboard paravane boom which snapped off while the boat was in Mozambique. Shifting winds, strong currents and choppy waves caused the fish to jump putting undue stress on the paravane. The boom was later repaired "island style", but still held up fine, says Heidi" "It did a great job all the way to South Africa in an 18-foot swell from the southwest and 12-foot seas from the northwest."
Experienced mariners that they are, the Hasses have come to expect the occasional large waves and ordinarily remain unphased. When they bought their Nordhavn in 1995, they were looking for a powerboat that was built to be "comfortable in high seas and also give you some security," says Heidi. With confidence in the Norhdavn, the Haases named her Kanaloa after the Hawaiian god who controls the forces of nature.
Eighteen-footers notwithstanding, the trip wasn't without its scary moments. Near Thursday Island in Australia, Wolfgang and the couple's dog, Zulu, were riding to shore when a 25-foot Australian crocodile surfaced right next to the tender. Says Heidi: "Australian crocs are one of the most dangerous in this world. Totally unpredictable, they are known to bite right through any kind of dinghy—plastic, aluminum, it doesn't make any difference to them. Their favorite meal? Dogs." Thankfully, the twosome was not on the menu that day.
While a single circumnavigation is an exceptional accomplishment for any sailor, having completed two is an even rarer feat. Unbelievably, this marks the third circumnavigation for the Hasses, who, prior to their Nordhavn purchase, orbited on board a 38-foot Van Dam sailboat.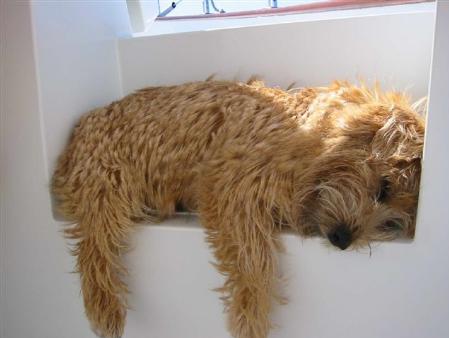 Zulu may be the first Norfolk terrier to circumnavigate. For additional photos, click here.
Yet, of all their global treks, Heidi says this most recent one was their best—a consequence she attributes directly to Zulu, their Norfolk terrier, who has forced the Hasses to be more social. The couple not only changed their cruising habits, opting to move mainly at night in synch with Zulu's sleeping schedule, but walking requirements prompted them to explore more of the lands they visited. And people naturally were drawn to the dog. "Having Zulu around . . . we saw much more of places and made more friends than [on previous cruises]," says Heidi.
The adventurous German-born couple will lay over in Dana Point for several months, giving Kanaloa a tune-up and allowing time for visits with friends. But they won't stay landlubbers for long. Next year they plan to head back to what Heidi describes as their favorite cruising grounds: the South Pacific. After that, it could be on to China to visit Zhai Mo, the first single-handed sailor from China who became a good friend of the Hasses. "He would love to see the boat in Shanghai," she says. "Who knows? Kanaloa is ready for new adventures and so are the three of us."
Kanaloa completes first circumnavigation
Year of the Voodoo doll aboard Kanaloa
Circumnavigator editors at work and play