Thursday, July 8, 2004
Sonaia Hermida, first mate aboard the Nordhavn 57 Goleen for the first two legs of the rally, is among the excited greeters welcoming the fleet to Gibraltar.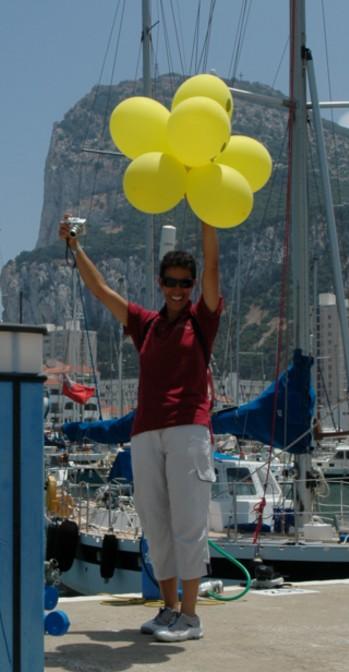 FROM KEN WILLIAMS ABOARD THE NORDHAVN 62 SANS SOUCI
Our final day into Gibraltar was perfect. The weather was horrific, but there is more to the story.
Roberta and I had the 8pm to midnight watch. As our shift began, we were about 150 miles from Gibraltar, and all was calm. But then I opened my email, to find this note from Walt Hack, our weather analyst:
The weather god has again intervened in the developing pressure pattern today and Saturday , and will indeed swing the local wind for the Gibraltar Strait passage to EASTERLY! However, he is being kind and keeping the wind intensity to at/below 20kts, and the wave heights at about 5ft or less.
Thus far, the wind has always behind us, or on the side. Generally speaking, I don't like wind from ANY direction. But, the worst possible direction is to have the wind blowing straight at you. We have run 4,000 miles with the wind behind us to the side or behind, with much of it in the 15-20 knot range. As I read the report, I was thinking, OK, it will be a bit bumpy, but no big deal.
During our shift the wind did flip around to the front, and increase to 20 knots, as predicted. Also as predicted, we encountered the Division Two boats. We first saw them from about 8 miles away. As it was dark, all we saw was their lights on the horizon. The way that they were spread out, had I not known better, I would have sworn that we were approaching a city.
Throughout our shift the radio was alive with chatter. Our division had only five boats, so radio communications were infrequent. Division Two with eleven boats was much more active on the radio, plus now they had our boats to speak with. Normally during Roberta's and my shift, we put on a book-on-cassette to help pass the time. For the first time, it was impossible to do so, due to the non-stop radio chatter.
As we approached Gibraltar, we were surrounded by freighters. Chris, from Goleen, had predicted that it would be a stressful night, and that no one should plan sleep. All boats wishing to enter the Mediterranean from the west much pass through the Straits of Gibraltar, or run thousands of miles south around Cape Horn. Throughout most of this rally seeing another boat was a rare and exciting event. We now found ourselves surrounded by freighters in every direction. My radar screen was almost worthless, and appeared to have contracted some form of measles (little white dots everywhere). Because of the merger of our two groups, there were 17 dots on the radar, representing our rally boats, and then at least an equal number that were big freighters, or enemy targets as we had taken to calling them. Our boats were huddled together in a tight pack, in the hopes that this might make us more visible to the freighters.
Without Chris, I don't know how we could have safely entered the strait. Chris has a device on his boat, which shall definitely be on my shopping list the next time I upgrade Sans Souci. He has AIS, which is a radar enhancement that gives you information about any ships that appear on your radar. All boats over 100 feet are required to transmit AIS information. Chris was seeing each freighters name, heading and speed. His AIS system was also computing how close the ship would come to our group.
Chris has no lack of self-confidence. Whenever he observed an enemy target that was in our path, he did not hesitate to call them and let them know that he considered this inappropriate. Chris sounded incredibly intimidating as he put freighter after freighter through the same drill. He would ask them their heading and speed (which he already knew), then ask where they came from, what they were carrying and where they were going. He would then ask if they saw our fleet. Keep in mind that Chris is aboard a 57 foot boat speaking with a foreign crew, on a city-sized freighter, in his impeccable British accent. After a few minutes of verbal sparring, Chris would ask the freighter to change their course so that we might pass by safely. My favorite was an exchange last night, where the freighter immediately agreed to make a turn to starboard. This wasn't sufficient for Chris, who then demanded to know exactly how many degrees, and when the turn would commence. We then watched in amazement as this freighter and another large freighter maneuvered to avoid striking each other, after having changed courses to avoid coming too close to us.
Knowing that Chris was clearing boats reduced Roberta's and my stress to a level where we thought we were going to bed after our shift ended at midnight. And, in fact we did, although we were wrong to think we would be sleeping.
I do not know how high the waves were. My sense is that they really weren't that large; perhaps 5-7 feet. However, they were very frequent. I timed them and a wave was hitting us around ever 2 seconds. Side to side rolling was not an issue, but the front of the boat was pitching up and down in an ugly manner. It was uncomfortable enough that sleep was impossible.
The front cabins of Sans Souci had emptied, as everyone drifted to the main saloon of the boat, where the pitching wasn't quite as bad. From time to time we would hear something somewhere crash to the floor, even though we thought we had everything tied down.
As Roberta and I were fitfully trying to sleep, the wind was getting nastier. We were in our bunks downstairs, and noticed that the pitching was getting worse. Before going to bed, Roberta had asked that I close the hatches, in case water came over the bow. I didn[base ']t think this was likely, but I was very wrong. At 5am GMT, we took a huge wave over the bow, and suddenly had a huge amount of water get past the closed hatches. The television and two satellite receivers that sit in one corner of our cabin have survived through thousands of miles in good times and bad, often with the hatches open, but, now they were inundated with sea water, even though the hatches were closed. I had closed the hatches but not locked them. 99% of the time this would have been fine, but this was the other 1%. They were toast, and not the only victims. A fair amount of sea water had entered our cabin. Roberta was not very happy with me.
It was time to get out of bed and see what was happening. The 62 is well engineered for high-seas, with handholds everywhere to help you move in a bouncing boat. For the first time, movement was nearly impossible. As we groped our way into the main salon, the first thing I saw was Roberta's mom stretched out on the floor of the main saloon. John, her dad, was trying to get her a pillow and blanket. Neither of them looked very happy. Phil was stretched out on the couch looking VERY uncomfortable. Michael was in a chair, trying to cover himself with a blanket.
I went up to the pilothouse to see what was happening. The winds had increased to 35 knots sustained, occasionally rising to 43 knots. Wave height was higher but not high. I[base ']d guess at perhaps 6-8 feet. We were pitching violently, burying the nose every few waves, and I could see several other boats around us, all of which were also struggling with the wind.
Kirk was at the wheel, with Rip standing beside him. Kirk was grinning ear to ear, which surprised me. His comment was, This is nothing. I've seen much worse heading north in the Pacific. As I thought about it, I've also been through much worse. We were rocking, but nothing bad was going to happen. Within a few minutes the euphoria caught on, and I cheered up. I heard someone on the radio shout, Ride em Bronco! and someone else say, Wheeeeeee! We were getting slammed, but it was well below the threshold of what a Nordhavn could take, so, why worry about it?
No one on our boat was seasick, and the hatches were now correctly closed, so, attention shifted to getting some great pictures before the wind died down. Photography was quite a challenge, as the sea spray as such that there was no way to go out on deck. Michael Ronquillo assisted me. He would open a side door to the pilothouse between waves and hold it open for just a few seconds, during which I'd snap a picture, and then pull back as he slammed shut the door.
The high winds lasted another five hours. A few times Chris called us to say that he had found calmer water by hugging the shore. We thought about it briefly, but were having fun and the picture-taking was good, so, we stayed with the wind. He called us several times, confused about why anyone would voluntarily put themselves through such weather.
It just felt like the perfect ending to the trip. Had we slid in on flat water, the voyage would have felt like it didn't have a proper end.
Around 10am GMT the wind dropped to a more rational 20 knot level. Jim Leishman came on the radio to tell us all to follow him to the Rock or picture-taking. I advocated mutiny on my boat, and going straight into port. After five days at sea, I wanted to be off the boat. Losing another couple of hours to posing for pictures sounded like the wrong idea.
We stayed with the group though, and wound up having a great time. The sun came out, and the water was smoother. A camera boat was sent from shore to take pictures of the boats arriving, and we decided to give them something fun to take pictures of. I was in a humorous mood, so I put the song YMCA blaring from the front deck speakers, followed by Electric Avenue. Roberta's parents went out on the front deck and danced their hearts out. Autumn Wind and Grey Pearl pulled along side of us, with their crews applauding. We also attracted a customs boat, with officers who looked unamused pull along side of us. They left 15 minutes later, without contacting us, having decided we were crazy, not dangerous.
As usual, Roberta, her parents and I moved into a hotel, which has proved somewhat disastrous. The hotel, called The Rock, is allegedly the nicest hotel in Gibraltar. It's not bad, but I certainly wouldn't recommend it. The worst has been that I couldn't get a power adapter for my computer, and they don't have Internet anywhere in the hotel. They couldn't even provide a phone cord so that I could dial into the internet. Meanwhile, back on the boat, the marina has wireless DSL. The crew is surfing the net at DSL speed, while I have finally gotten a flaky 28.8 slow modem connection working here in the room. There is a good chance I'll be booting the crew off the boat so that Roberta and I can move back to the marina.
The rally officially ends with a huge party on July 4th. Most of the boats will be leaving on July 5th. Roberta and I only have another three weeks before we have to be in Seattle, and want to deliver the boat ourselves to Cap D'Ail, near the Monaco border (approx. 1,000 miles). I'm a bit nervous about the first leg, from here in Gibraltar to Formentera, which is approximately 400 miles, or a 48 hour run. It will be Roberta's and my first ever overnight run (other than the rally), and we'll be doing it with just Roberta, I and her parents. We would like to do this next trip leisurely, so we are planning to leave Gibraltar early, meaning within the next few days. This will not go over well with the rest of the rally group but, we already have a bit of a reputation as being anti-social, because we have been staying in a hotel while in port, so I suppose it doesn't matter.
Before I end, I should tie up some loose ends:
--Bob Rothman and Emeritus never rejoined our group. He traveled the entire distance from Horta to Gibraltar alone, arriving the evening before the rest of the group. In a very pleasant surprise, he tendered from boat to boat as we were arriving in Gibraltar to say Hi! to each arriving boat.
--During our final roll-call, one of our boats did not respond. It was the boat just behind me, so I went to the back deck and looked to see if it was still there. I instantly knew something was wrong, because it was sideways sitting still in the water. As were thinking we needed to turn back to help, a call came on the radio saying they were fine and that we should go ahead. They said they would catch up soon, and ignored questions on the radio about what happened. In port, I got the rest of the story, which I shall repeat without the boat's name, as they were a little embarrassed. They ran out of gas. All of us have been running from a day tank, and transferring in fuel as needed. Sans Souci's day tank is only 300 gallons, so it's easy to run out of fuel if you forget to transfer fuel in. All they had to do was transfer a little fuel and they were back running. Oops.
--I've received many questions asking how we were able to do Internet from the middle of the Atlantic. Sans Souci, as well as Goleen, were equipped with Fleet 55/77 units. These provide always-on Internet, but are expensive to use, and fairly slow. Our service was about half the speed of a normal dial-up modem. The nice thing though was that we were always on, and could surf the Net at any time. The downside was that my internet bill for the trip will be around $7,000! Keep in mind that we had eight bored people sharing the connection. It's still a lot of money anyway you look at it.
--A few people did get sick during the final approach, most notably Teri on Strickly For Fun. Once into port, Teri taped a T-shirt to the side of their boat which was hilarious. It was a T-shirt Lugger had passed out to the rally participants that had some stats on the trip. It originally said: 30 Vessels, 3,800 miles, 1 power source, Lugger. Teri decided that there were other important stats to focus on, and added to the shirt how many anti-seasickness patches she wore, how many pills of varying sorts she took, and a more personal message: Boat For Sale, See Wife. I put the picture of the shirt under the Photos, Part III, Misc pics section at http://sanssouci.talkspot.com
--Also on the website: I posted a picture of a thing that we found during our swim 150 miles out. Thus far, I've received three responses all of which thought it was something different. One person guessed at coral, one as a sargassum fish and the third as mature Squid eggs. I still don't know which is true.
This is my last official rally email. I have a ton of pictures which I would like to upload, and will, as soon as I can get a high-speed connection. Check the site from time to time for them.
I haven't decided whether or not I will post anything as we run the next 1,000 miles. If I do, it will only be one or two updates, just to let people know we are surviving.
History has been made. This was the first Cross Atlantic rally by power boats, but it will not be the last. Hopefully many of you who are reading this will make your own crossings, and I look forward to reading your logs someday!
Ken Williams Sans Souci Nordhavn 62 #09 http://sanssouci.talkspot.com/
PS Chef Phil sent me a message which follows:
THROUGH THE EYES OF A CHEF
As chef on board the Sans Souci, I want to give my take on this amazing experience as we are about to reach our final destination of Gibraltar. I've been spending the last few days thinking about all that has happened. It feels like this whole experience has been much like a roller-coaster ride.
First you buy your ticket to ride the roller-coaster with a little anxiety and a little excitement about the thrill of the ride. Then you get in line and both the excitement and the anxiety builds. There still is a chance to back out but you tell yourself you've made the commitment and you should follow through with it.
As you get up to the front of the line you start asking yourself what have you gotten yourself into? But still, you convince yourself, you can do it. And then you get in the car (boat) and they lock you in. Yikes! There is no turning back now. Now you are asking yourself questions like what was I thinking?
As the car starts to move you still have anxiety but you are also proud of yourself for sticking with your commitment to do something challenging. The car starts to climb the first big hill and again you wonder why you decided to take on this challenge of the unknown. And then, weeeeeeeeee!, you are off and running and you are laughing and smiling and saying to yourself this is the best experience ever! And then you find yourself saying, come on, bring it on, gimme all you got!
It is at that point that you know you can survive almost any challenge because you overcame your fears and lived to tell about it. And when the ride ends what do you do? You say, come on, let's do it again!
It literally seems like ages ago that I arrived in Ft. Lauderdale with Ken and Roberta and began the task of provisioning. There were so many unanswered questions back then in my mind about what it was going to be like preparing food in a kitchen (galley) that was constantly moving. Working in a kitchen-in-motion was not a new experience to me since I have been working for nearly a year now as chef on The Silver Lariat, a private railcar. I guess I was expecting much of the same.
There are little tricks that I have learned on the train about how to minimize spillage and what you can and can't do. But I had no idea that the rocking motion on a boat would be amplified at times which included not only left to right but up and down, back and forth and every combination there of. On a train the motion is best described as rocking, on a boat it can be a combination of anything depending on the conditions of the sea. At times you just have to wait out a roll to continue what you were trying to do. And that could be as simple as walking from one side of the galley to the other. I learned that the further you spread you legs apart while standing chopping vegetables the better chance you have of continuing to work when the rolls come along.
Another part of this experience was learning and accepting the fact that you are sharing a small living space with 7 other people with 7 different personalities. One learns to be humble and go with the flow. Which was also the case when preparing food. I was lucky and I would say that most of the meals I prepared was to the liking of most everyone. It was fun to spoil everyone with 3 complete meals each day especially after I learned that many of the other boats in the fleet didn't have such a luxury. I was told that I had the hardest job on the boat but I'd have to say I had the best job on the boat. To be able to cook meals for 7 very appreciative people and to say that I crossed the Atlantic in a motor yacht is something I am so very proud to be able to say. Asked if I would do it again knowing now what I didn't know before my answer would be a resounding yes. But with that said, I can say I've done it and I don't need to do it again!
After we reach Gibraltar I look forward to exploring parts of Europe before returning home to Seattle. If anyone out there is looking for a chef with international experience under diverse conditions, I'm your man. Time to revise my resume.
Thank you, Ken and Roberta, for an experience of a lifetime!
Chef Phil Strable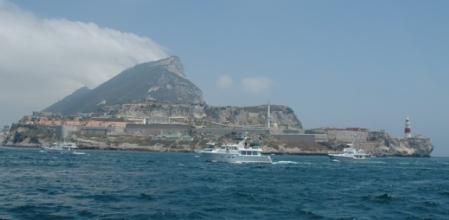 A different perspective on the Rock presents itself as we enter the huge harbor at Gibraltar. The view made popular in insurance advertising is from the north, from Spain.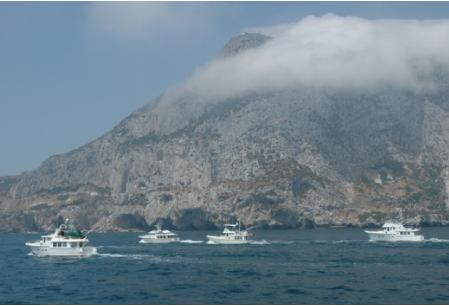 Once the photography was done, it was time to head for Marina Bay Marina and the champagne.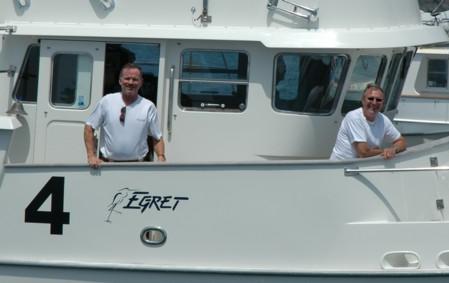 There were happy faces on every boat in the fleet assembling for photography in front of the Rock. Dean Wiley (left) and Cecil Newsome crewed aboard the Nordhavn 46 Egret.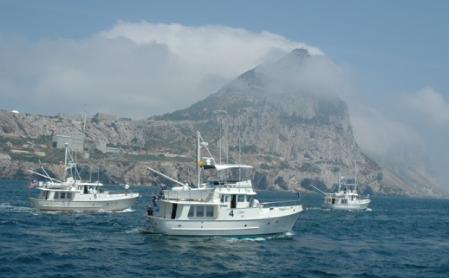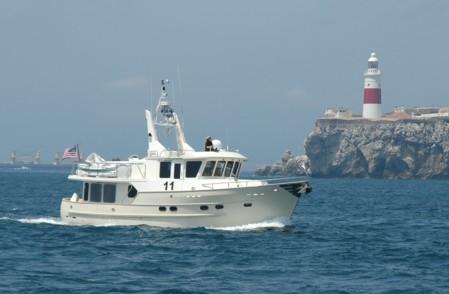 Que Linda passes the Punta Europa lighthouse, which dates back to 1841.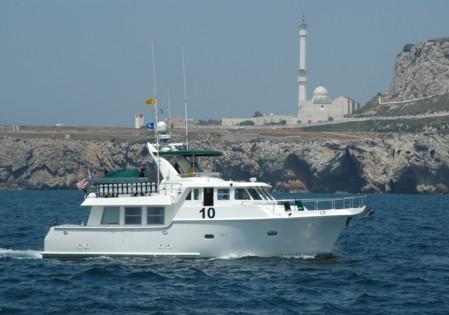 Four Across steams past the Mosque of the Custodian of the Two Holy Mosques which was completed in 1997. Christians, Jews and Muslims have lived together on the Rock for centuries.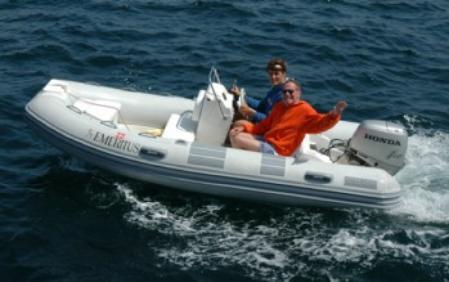 Bob Rothman and Matt Inman of the Nordhavn 57 Emeritus, who reached Gib one day ahead of the fleet, come out to Punta Europa to greet arriving boats.
SATURDAY JUNE 26 2004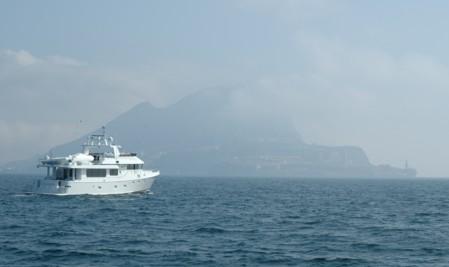 As Gibraltar comes into view, Crosser (above) and Goleen are the first to arrive at the historic landmark.
FROM ANITA NEIFERT ABOARD THE MOTOR YACHT CROSSER
As the sun rose from the east and daylight broke on the morning of June 26th, from Crosser, we could now see the entire NAR fleet. Although the seas where 5 -6' with only 3 to 5 second break between each wave, we watched each boat from the bridge, each of them depending on their size, took the head seas differently, but with purpose and determination it
Once up from thru Straits of Gibraltar, the wind and seas died down as the sun rose to show us the magnificent "rock" as it is affectingly called here. All the NAR boats gather together to make a pass for a photo opportunity. As Crosser found her place in line with the group, I noticed a small ache in my heart, and a tear fell from my right eye.
We all have done it and thanks to NAR it has been a success. The memories and the experiences we all will recall years ahead. The videos and pictures we will share for the rest of our life.
As we circle in front of the "rock: the sun shines upon us, the rock stands bold and clear, with only a wisp of clouds now and then at the top. The rock represents how some of us feel. Bold and proud, truly blessed to have done this and now the Mediterranean lies in front of us to explore new horizons.
Once at the dock at Marina Bay, celebrations begin and so do tears. We have done it, but yet we seem for some reason do not want this to end. So many new friends that we have made, so much knowledge to share and still learn from each other. We have traveled so far with each of you, no one wishes to truly say "good-bye". We are already missing our 8:00 am and pm roll call, our trivia questions, and heavens forbid the midnight VFH radio games!
Crosser wishes each and every one of NAR participants and the boats calm seas, fair winds along friendship and memories for a life time. We thank you for this wonderful opportunity to have shared so much with so many for such a short time.
Anita Neifert Administrator M/Y Crosser
Site see:
Trawler Transatlantic 2004-Welcome
Leg 1 Fort Lauderdale, Florida, to Hamilton, Bermuda:
Leg 1 photos Wednesday, May 26, 2004
Leg 1 photos Thursday, May 27, 2004
Leg 1 photos Friday, May 28, 2004
Getting ready to depart for the Azores
Leg 2 Hamilton, Bermuda, to Horta, Azores Sunday, June 6, 2004
Leg 2 Hamilton, Bermuda, to Horta, Azores Saturday, June 12, 2004
Leg 2 Hamilton, Bermuda, to Horta, Azores Sunday, June 13, 2004
Leg 2 photos Tuesday, June 15, 2004
Leg 2 photos Tuesday, June 20, 2004
Leg 2 photos Monday, June 28, 2004
Leg 3 Horta, Azores, to Gibraltar, Gibraltar Tuesday, June 29, 2004
Leg 3 Horta, Azores, to Gibraltar, Gibraltar Wednesday, June 30, 2004
Leg 3 Horta, Azores, to Gibraltar, Gibraltar Friday, July 2, 2004
A challenge well met Thursday, July 8, 2004
A challenge well met Friday, July 9, 2004