SUNDAY JUNE 20 2000
What a day!
First interview at 0830 aboard the Seaton custom 55 Que Linda!. By 0930, the marina is demanding that we immediately move the boat as the full-time slip-holder has returned after several days away. So, over to raft up against the Nordhavn 62s, Grey Pearl and Sans Souci, we go. No sooner has the interview resumed when the VHF squawks. The smaller-boat group is approaching Ponta Delgado, one day after departing Horta. Linda Wyman of Que Linda! and I decide to jump into Lindita, their RIB, to race out to say hello. Hal Wyman's son, Chris and his bride, Stacy, join us. Off we go, readjusting vertebrae as we pound into head seas for about a mile.
We greet eight boats of the 12 in the group. Much waving and shouting and picture-taking. Then we race back to the marina and Que Linda! to complete the interview. I hike back to Goleen where I fix salad and cheese for lunch and then nap prior to my afternoon interview aboard Sans Souci. Ken Williams, who is playing golf with Chris Samuelson, gets delayed and we miss each other for the second day in a row.
Before long, the tender from the Monk/McQueen 90 Crosser is here to pick me up, for an interview followed by cocktails. Crosser is a mind-blowing combination of luxury, fine taste and craftsmanship. David Stone and Sandy Howarth, the owners, are delightful, and certain to win the rally hospitality and congeniality awards. Before long, owners and crews from Grey Pearl and Sans Souci arrive for cocktails. Anita Neifert, chef and steward aboard Crosser, serves two type of margaritas to wash down the chicken liver pate and antipasto she has made. Everyone is having a smashing time as Crosser gently swings on the hook just off the main drag of Ponta Delgado which, in a downscale sort of way, is reminiscent of the waterfront at Monte Carlo.
The rain starts just as we are about to return to our own boats. I hitch a ride with Linda Wyman. My umbrella collapses in the breeze as Linda pushes the throttle to the metal.
Back on Goleen, Sonaia Hermida is preparing bacalhoada, a Portuguese specialty made from salted cod. Bransom and Jonathan are not yet returned from their second day of sightseeing. Chris is ashore, at the marina cafe, watching the Portugal-Spain Euro 2004 soccer match on the jumbo screen. I join him, and find a bunch of other NAR types taking in the game and soaking up the suds.
I am quite wet, so I return to Goleen for a change into dry clothes. From the cheers, I can tell the second half has started, so out in the rain I go again to see the rest of the game. It's an outdoor cafe, so I tuck my trashed umbrella under one arm.
---
We are scheduled to depart for Gibraltar Monday at 12 noon.
---
Email from Bill Bane aboard the Nordhavn 46 Satchmo to Chris Samuelson:
Chris,
We left on schedule today (Saturday, June 19) at noon and the day has been spectacular. The sun was just right for us 46s to get a picture with Pico in the background. Hope it turns out.
You guys have a good trip and I look forward to seeing all of you in the light at sea as you toodle past.
Bill
To: NAR-2004 Fm: O.M.N.I. NJ/USA 1700Z 20 JUN 2004
- Not too much change since the last few days n the overall surface pressure picture for the eastern Atlantic in the coming 5 days. High pressure across the sub-tropics from west of the Canarys to southern Spain, will persist thru the coming week, but will weaken by late this coming weekend across the Gib/Strait.
- Wind/sea conditions along both the SLOW and FAST Groups tracks will remain following and quartering for much of the this leg to Gibraltar. However, there is some chance that the last day through Gibraltar Strait will meet some easterly mod-fresh winds.
For the SLOW GROUP along the rhumb line route from Horta south of Sao Miguel to Gib/Strait, expect: Sun/20: WSW 11-20kt. Swell West 4-7ft. 8-10sec periods. Mon/21: WSW-SW 12-22kt. West 5-7ft. Tue/22: WSW 15-25kt. West 6-8ft. Wed/23: WSW-W ease 10-18kt. West 4-7ft. Thu/24: Veer wind W to NW to NNW 08-18kt. W+NW 5-6ft. Fri/25-Gib: NNW to ENE 10-20kt. East 4-5ft Gib/Strait.
For the FAST GROUP along the rhumb line route from San Miguel Mon/21st to Gibraltar Strait, expect: Mon/21: WSW 12-22kt. Swell WSW-W 5-8ft. Tue/22: W-WSW 15-25kt gusty/30kt. W-WNW 6-9ft occ 10-11ft briefly. Expecting the wave field to be fairly stable so even the larger swells should provide reasonable riding. Wed/23: W-SW ease 10-20kt. West 5-8ft. Thu/24: SW-W 04-14kt AM. W-NNW 08-17kt PM. W+NW 5-6ft. Fri/25-Gib: NNW to ENE 10-20kt. East 4-5ft Gib/Strait.
Updating. B/Rgds, Walt/OMNI
SATURDAY JUNE 19 1945
Alone, again.
Bransom and Jonathan have not yet returned from sightseeing and Chris and Sonaia were invited to Crosser for cocktails. Santana plays in the saloon and I bang away at the iBook in the pilothouse.
My heart went a flutter this afternoon when Anne Caseneuve showed up with her record-setting trimaran. Although I did notice that she was wearing a red top as tight as her jeans, it was the trimaran that made me fantasize. Trawler yachts are awfully nice, and sailboats are wonderful, too, but an ocean-racing tri or catamaran has no equal in the excitement department.
It's been 15 years since I sold my trimaran, Great American, but I can still feel the spade rudder start to hum when boat speed reached 15 knots. Sail faster still and listen to the centerboard join the song.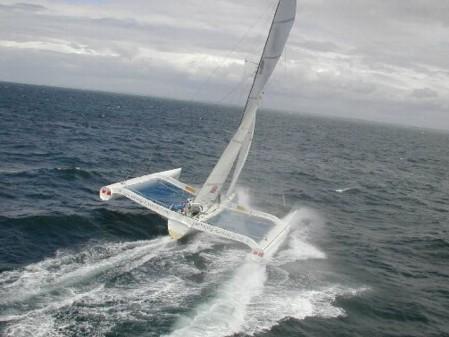 SATURDAY JUNE 19 1445
Alone, at last.
After five weeks in the company of others, it is nice to have the boat all to myself for the afternoon. The owners are off visiting another yacht. Bransom and Jonathan rented a car for sightseeing. I was going to go with them but decided to stay behind.
Having the boat to myself was the primary reason. Additionally, I wanted to get some work done. I started interviews aboard Que Linda! this morning and in two hours I am expected aboard Sans Souci. At the moment, Chuck Berry rocks Goleen as I make these notes.
I suspect I may return to the Azores with Significant Other, thus, the sightseeing excursion to Caldeiras da Ribeira Grande for a close look at extinct volcanoes and hot springs was easy to postpone. Nevertheless, the prospect of eating a dish called cozido cooked in a hot spring sounded compelling.
Chris Samuelson called Milt Baker back in Horta before he left the boat. The group of 10 smaller boats and their two escorts were due to depart between 1200 and 1300, so by now they will be under way. Tommorrow, their course on the rhumb line to Gib will bring them close by Sao Miguel about 0730-0800. Chris said he would try to raise them on VHF 16, 17 and 72.
Emeritus, the Nordhavn 57 with a stabilizer problem that has been fixed, will depart Horta at 1200 Sunday The question is whether owner Bob Rothman will follow the rhumb line, thus, making it easy for use to group up with him by leaving here Monday morning. An independent sort, Bob, at 77, the oldest man in the rally, already broke from the fleet between Fort Lauderdale and Bermuda.
Milt reported that there was much fuel polishing going on back in Horta as it was suspected that one load of diesel used to refuel the fleet may have been dirty. In our group, Que Linda noticed an unsual amount of crud in the filters en route Ponta Delgado.
---
I have not received a response from Skymate to my one satphone call and two emails, but Fred Wunderlich, back in Fort Lauderdale, received the following from John Tandler, president of Skymate:
Fred,
Thank you for your email regarding SkyMate and the Nordhavn rally. I
apologize that I missed your earlier message. We realize the visibility
this event is getting and are working on improving our level of service.
It appears that there is a problem in getting the units switched over to use
ground stations in Europe and Morocco as they should be from the area they
are in. This is likely the cause of the majority of slow- or non-reporting
systesms. We are working with our subscribers and the rally organizers to
correct the problem.
Regards,
John Tandler
---
Jenny Stern of Pacific Asian Enterprises reports that three journalists are coming aboard for the third leg:
Peter Janssen (Yachting): Atlantic Escort
Brad Kovach (Motorboating): Atlantic Escort
Bill Parlatore (PassageMaker): Strickly For Fun.
To: NAR-2004 Fm: O.M.N.I. NJ/USA 1700Z 18JUN 2004
- Strong S-SW winds expected remainder tonite into early Sat/19-AM. Secondary low pressure center 550nm NW of Faial, will move NE-NNE tonite then North into Sat/19-PM to a nearly stationary position just ENE of the Grand Banks of Newfoundland. The occluded front associated with the low will pass Faial-SoaMiguel o'nite tonite 2400L-0300LT. Since the associated low center will remain to the NNW-NW of the Azores, expect local Azores winds to veer a bit S'ly to W'ly into early morning Sat/19 then back and ease WSW-SW again during the day Sat. Strongest winds associated with this system will occur in the Azores late tonite into the dark morning hours Sat/19, then ease. Thus, not expecting severe conditions from Faial eastward toward Gibraltar for the Div/2 group departure Sat/19th and for the 2-3 days following.
- A new disturbance south of the prevailing stationary low to the north, will pass not far north of the Azores o'nite Sun/20 into Mon/21-AM and will freshen the SW-W winds to 25+kt near and just east of SaoMiguel Monday/21.
- For both Groups, winds east of 20W will veer SW to W'ly, then mostly WNW remainder to Gibraltar Strait, as high pressure settles in across the lower 30's latitudes west of the Madeiras.
msg 2/2 - Div/2 departure Sat/19 Horta, along the rhumb line via south of San Miguel, to Gib/Strait expect:
Sat/19: 0000-0600LT Ease to SW 20-30kt. Ease further after 0600LT SW-WSW 15-25kt. Swell WSW 8-10ft til noon, then 7-8ft. Sun/20: WSW-W 10-20kt. WSW 5-7ft. Mon/21: W-WSW 15-25kt. West 5-6ft. Tue/22: SW 17-25kt. WSW 5-7ft occ 8ft. Wed/23: SW-W'ly 10-19kt. W-WNW 5-7ft. Thu/24: W'ly 10-17kt. West 4-7ft. Fri/25-Gib: WNW-W 10-20kt, West 4-6ft Gib/Strait.
- Div/1 departure Mon/21 Sao Miguel, along the rhumb line to Gib/Strait expect:
Mon/21: SW-W 18-28kt. Swell WSW 7-10ft. Tue/22: W'ly 20-28kt. Swell W 8-10ft occ higher sets 11-12ft. Wed/23: WSW-WNW ease 15-23kt. West 7-9ft. Tue/24: W-NW 10-20kt. NW 5-7ft. Fri/25-Sat/26 Gib: W'ly 10-20kt 4-6ft thru Gib/Strait.
Updating. B/Rgds,Walt/OMNI
FRIDAY JUNE 18 0935
We are entering the harbor at Ponta Delgado. It appears there is no room in the marina for us, despite any number of telephone calls from Horta, and we will anchor, at least until matters are sorted out.
FRIDAY JUNE 18 0220
Lat 38 04.4 North Long 26 48.6 West, Speed 8.9 knots at 1,450 rpm, Course 125, Wind 3 knots from SE, Light swell, Distance remaining to Ponta Delgado 56 nm, ETA 0830
What a happy ship! You can sense it right away. The four of us are going to have a great time aboard the Nordhavn 57 Goleen on the passage to Gibraltar. On some yachts, there is unease or tension between owners and crew. On others, the tension is between the husband and wife who own the vessel. On many other yachts, and Goleen, there is none of that.
Simply put, we are all here to enjoy ourselves.
On board is Chris Samuelson, Goleen's owner who is a Brit, his friend Bransom Bean, an American living for many years on the Isle of Man, Jonathan Ehly, my crew mate on Strickly For Fun who hails from San Diego, and me myself from Frenchman's Bay just outside Toronto.
Two hours after leaving Horta, Chris, in a tribute to the two Americans aboard, selects a CD by Don McLean. A minute later, American Pie rocks Goleen, and Bransom and Jonathan sing along.
It's happy hour! We crack open beers to wash down the Pringles. Then I volunteer to make a hearty yet simple supper, a large omelet made with Bermuda eggs, American bacon, and Azorian pork sausages, onions and potatoes. Chris and Bransom share a bottle of Beaujolais, and Jon and I sample a bottle of red wine from the island of Pico. It is quite nice and we affectionately call it Pico Plonk.
When we were alone in the pilothouse, Chris remarked, more to himself than to me, that this was the first time in 6,500 nautical miles that he has sailed without his partner, Sonaia Hermida. Sonaia had a rough time during the Bermuda-Azores leg and opted to fly on to Gibraltar.
I suggested that Chris call her and tell her, not me, that he is conscious of her absence. As it turns out, Sonaia is only a half-mile from Chris, having accepted an invitation from Crosser to at least cruise as far as Sao Miguel aboard the 90-foot Monk/McQueen. When Chris hails Crosser on the VHF, Sonaia cannot take the call. She is having a massage.
THURSDAY JUNE 17 1605
We are under way again, aiming to run along the north side of Pico and then head for Ponta Delgado on Sao Miguel where our way point is 37 40.445 North 25 36.463 West.
Our group of 5 yachts is made up of Goleen, the custom Seaton 55 Que Linda, two Nordhavn 62s, Grey Pearl and group leader San Souci, and the custom Monk/McQueen 90.
Our way point off Gibraltar, actually, south of Tarifa, will be 35 59.013 North 05 35.630 West, another 1,136 nm across the Atlantic.
At the briefing prior to departure, Jim Leishman requested that we get under way from Ponta Delgado 24 hours after the small-boat group passes. If they run at 7 knots, and we scoot along at 8.5 knots, we should all arrive at Gibraltar together on the morning of June 26. The smaller boats are leaving Horta on Saturday morning.
Milt Baker told us the best time of approach to Gib will be at high tide so we get a push through the Straits of Gibraltar into the Med. We will hug the northern coast of the straits to avoid outbound ships.
The sixth yacht in our group, the Nordhavn 57 Emeritus, will depart Horta on Sunday as per the original rally schedule. Stabilizer repairs were being made as we departed Horta since the Trac tech arrived later than expected.
In light of an earlier comment I made about Naiad stabilizer failures, I should note that Trac as well as Naiad are having the same success rate in the fleet, that is, one of three systems are not working properly. I'll need to double-check but I believe 13 boats have Naiads and 3 are equipped with Trac made by American Bow Thrusters.
----- Original Message ----- From: walterh To: Jim Leishman Stratosnet ; NAR2004 Sans Souci ; Capt Georgs Kolesnikovs ; Jim Leishman - Atlantic Escort ; FourAcross ; QueLinda ; NAR2004 KenW Sent: Thursday, June 17, 2004 2:21 PM Subject: NAR2004 2/2
- There is some indication that Mon/21-Tue/22 will bring some 25+kt SW-W winds and waves above 10ft to the Azores waters and eastward to 20W-15W. These conditions could impact directly on the scheduled vessels' departure Monday/21st for Gibraltar.
- During the coming 24 hours between Faial to SaoMiguel, expect winds to swing from prevailing NE'ly to S and SW by Fri/morn, and may freshen to 20-25kt by noon Friday. Waves will build to 6-8ft by mid-morning Fri near Sao Miguel.
Updating. B//Rgds, Walt/OMNI
----- Original Message ----- From: walterh To: Jim Leishman Stratosnet ; NAR2004 Sans Souci ; Capt Georgs Kolesnikovs ; Jim Leishman - Atlantic Escort ; FourAcross ; QueLinda ; NAR2004 KenW Sent: Thursday, June 17, 2004 2:20 PM Subject: NAR2004 1/2
To: NAR-2004 Fm: O.M.N.I. NJ/USA 1600Z 17 JUN 2004
- New surface pressure pattern is evolving across the Azores waters these next 3-5ft days. NE'ly winds today will become variable overnight into Fri/AM, before freshening SE-S , then SW-WSW winds become the dominant wind stream over the weekend.
- Developing low pressure Friday/18th 600nm NW of Faial will mature into an occluded low pressure center by early Sat/19, remaining near that position through Sun/20-Mon/21, while secondary low pressure disturbances move NE'ward across the waters between the stationary low and the Azores waters. These secondary low pressure centers are not expected to be of gale intensity, but will freshen up the winds across the Azores to 20-25kt+ at times from the S-W into mid-week coming.
- During the coming 3 days, weather will be variable: some rain, some showers, some breaks to partly cloudy.
THURSDAY JUNE 17 1000
There is a briefing for skippers and crews in an hour, and then five of the larger boats will be off, on a 150-nautical-mile leg to Sao Miguel, the largest of the Azores islands. The rest will depart Saturday as per the original schedule, and we will meet up somewhere along the rhumb line to Gibraltar.
From this point onward, follow our adventures at http://www.nordhavn.com/rally/voyage/welcome.htm
I will resume posting at upon our arrival in Gribraltar on or about June 26.
Wednesday, June 16, 2004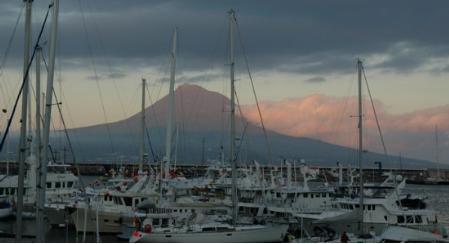 The majestic volcano on the island of Pico can often be seen from Faial and the marina at Horta.
TUESDAY JUNE 15 2200
Oh, that felt good! By skipping an Azores tourism ministry reception, I managed to get away for a walk/run of close to 8 miles along the road that runs along the south coast of Faial.
The heat had gone out of the sun and there was slight breeze from the east, refreshingly in my face on the return leg. On one side, I had the deep green of Faial, on the other, the dark blue of the Atlantic.
The bonus was that on the way back to Horta, the majestic volcano on the nearby island of Pico revealed its head above a necklace of clouds. At 2,351 metres, it is the highest mountain in Portugal. (The Azores are Portuguese territories.) The volcano is almost a perfect cone, reminiscent of Mount Fuji in Japan--without the crown of snow.
Tomorrow, we will take a ferry in the morning to Pico, the second largest island in the archipelago one third of the way between Lisbon and New York. Fifty of us have signed up for a tour of Pico.
Although some folks in the fleet are already bored with Horta and Faial, many of us are enjoying its quaint charms, plentiful seafood, tangy cheeses, and red wine--all bargain-priced. I am somewhat sorry that we will depart on Thursday, and I[base ']m dreaming up magazine assignments that could bring me back.
The Azores are the westernmost part of Europe, first discovered in 1427.
Site see:
Trawler Transatlantic 2004-Welcome
Leg 1 Fort Lauderdale, Florida, to Hamilton, Bermuda:
Leg 1 photos Wednesday, May 26, 2004
Leg 1 photos Thursday, May 27, 2004
Leg 1 photos Friday, May 28, 2004
Getting ready to depart for the Azores
Leg 2 Hamilton, Bermuda, to Horta, Azores Sunday, June 6, 2004
Leg 2 Hamilton, Bermuda, to Horta, Azores Saturday, June 12, 2004
Leg 2 Hamilton, Bermuda, to Horta, Azores Sunday, June 13, 2004
Leg 2 photos Tuesday, June 15, 2004
Leg 2 photos Tuesday, June 20, 2004
Leg 2 photos Monday, June 28, 2004
Leg 3 Horta, Azores, to Gibraltar, Gibraltar Tuesday, June 29, 2004
Leg 3 Horta, Azores, to Gibraltar, Gibraltar Wednesday, June 30, 2004
Leg 3 Horta, Azores, to Gibraltar, Gibraltar Friday, July 2, 2004
A challenge well met Thursday, July 8, 2004
A challenge well met Friday, July 9, 2004