Sunday, June 13, 2004
Milt and Judy Baker are largely responsible for the faultless operation of all shoreside aspects of Nordhavn Atlantic Rally. Here, they guide a newly arrived Nordhavn into its place at Horta Marina.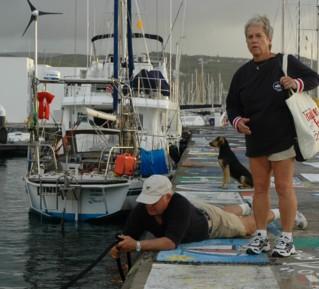 REPORT FROM MILT BAKER
Date: Sat, 12 Jun 2004 11:16:09 +0100 (GMT+01:00)
All 18 Nordhavn Atlantic Rally yachts have arrived safely in Horta, but the last few days were the toughest of the 1,800-mile run from Bermuda. As forecast by rally weather forecaster Walt Hack, a strong front overtook the fleet about three days out, bringing squally weather, winds reported at 25-30 knots, and 8-10-foot seas. But still good fortune smiled on the fleet, and the winds were mostly from astern or on the quarter.
The skipper of the largest yacht in the fleet, the 90-foot Monk-McQueen yacht Crosser, elected to leave the fleet and speed up to 12 knots to smooth out the ride, arriving in Horta about 24 hours ahead of most of the fleet. The remaining yachts in division 1, the fast fleet, reached Horta in squalls and 25-knot winds Thursday, and most of division 2, the slow fleet, arrived at midday Friday. Bringing up the rear were the rally's smallest yacht, the Nordhavn 40 Uno Mas, the rally flagship, Nordhavn 57 Atlantic Escort, and the Nordhavn 62 Autumn Wind, all arriving late Friday.
Uno Mas, a fleet favorite, arrived to a rousing welcome, with close to 50 ralliers on the south end of the seawall cheering and waving as the proud little Nordhavn chugged by with her three-person family crew. As with other rally arrivals, Uno Mas was greeted with a loud chorus of horns, led by the big Kahlenbergs aboard Crosser.
On the piers there was jubilation. Hugs were exchanged as the boats arrived, and one after another and crew members spilled out onto the pier. Official clearance was a breeze, with the ever-efficient Bensaude agents Marco Quadros and Mario Barbossa arriving aboard each boat seconds after the yachts arrived, going over the paperwork, disappearing with passports and papers, and returning minutes later with a smile. "You may haul down your Q flag, captain," they told us with a smile. "Your yacht and crew are cleared. Welcome to Horta!"
Tired skippers were compared notes on the passage, as crew members struggled to get the European electrical power from the pier channeled properly into the American boats' systems. Some larger boats opted to try the complex 3-phase wiring (380 volts, five wires, 32 amps) while others took the simple approach using a single 16-amp, three-wire, 220 volt line. With the pressure from the rally's longest passage off, many just elected to continue using their generators and spend their time relaxing and visiting with rally friends, new and old. Shore power could wait for tomorrow. Or the next day.
Once the last two yachts arrived and were safely alongside, Judy and I felt an immense sense of relief: two legs down, no debilitating and enduring mechanical problems in the fleet, and no injuries of consequence, and it all went well. Our little fleet was once more all together, all the NAR yachts in a tight group in Horta's new marina, and there were smiles everywhere.
Nuno Lima, the able Horta marina manager, has proved to be a man who can solve any problem. When Judy and I arrived, the new marina was chock-a-block with sailing yachts. "Don't worry," the smiling Nuno told us, "By next Friday, they will all be gone." And he was true to his word, arriving early Friday morning prepared to tow away the final few who had chosen to ignore his directions to move their yachts elsewhere.
NAR people are now all over town: in the restaurants and cafes, in the hardware stores, in the hotels, and on the street. Nordhavn ballcaps and T-shirts are everywhere. A television crew was on the dock at midday yesterday, and reports are they the interview with our single Portuguese speaking crew member was on the news last night.
Although mechanical problems were not the dominant theme for this leg, the rally fleet did indeed see some problems. They included:
--In heavy seas two days out from Horta, Uno Mas took some water into the lazarette where much of the yacht[base ']s electrical equipment is housed, and that led to losing her stabilization. Pitching and rolling in heavy seas without the stabilizers, skipper John Spencer tried to assess and then make repairs. Advice and counsel were provided over VHF from Atlantic Escort, but in the end Nordhavn 57 commissioning manager Justin Zumwalt donned a wet suit and swam across in the big seas from Atlantic Escort to Uno Mas, where he made repairs. He then swam back, spurning praise from everyone involved. The very modest Justin seemed to consider it just another part of his job.
--The last night out, Autumn Wind lost main propulsion when a heavy line floating in the sea became entangled in her propeller. Skipper Bill Smith fired up his wing engine, and continued on to Horta at 4.5 knots. Atlantic Escort, several miles ahead, turned back to accompany Autumn Wind and lend assistance, rendezvousing at dawn. Seas were still heavy at sunrise, and rally leader Jim Leishman decided the conditions would not allow him to safely put a swimmer in the water to help solve the problem. When seas calmed around midday, Jim[base ']s son James Leishman, swam to Autumn Wind and cut away most of the line, allowing Autumn Wind to resume using her main engine, shaft and propeller. Autumn Wind and Atlantic Escort were the last two yachts to arrive.
--Stabilizer problems continue, making the captains with paravane stabilization smile at least a little smugly. On this leg, Naiad did not have a monopoly on the problems. Nordhavn 57 Emeritus, which has Trac stabilizers, had one fin jam against the hull. Trac, one of the rally sponsors, has a technician on scene to solve the problem. A Naiad technician flew in from Connecticut with the parts needed to solve stabilizer problems on the Krogen 58 Sea Fox, the Nordhavn 62 Gray Pearl, the custom 55 Que Linda, and the Nordhavn 46 Envoy. Sea Fox, Gray Pearl and Que Linda had stabilization throughout the trip, though Sea Fox was able to use only one fin. Envoy, which carries both active fins and paravanes, used her paravanes through most of Leg 2.
--The Nordhavn 46 Satchmo lost both her main engine and wing engine for a short time after the fuel system sucked in some air in heavy seas. Thanks to skipper Bill Bane's cool head and technical expertise, Satchmo was back up and running in minutes.
--The rally flagship Atlantic Escort lost its single 16-KW generator. Even with a lot of Nordhavn technical horsepower onboard, they were not able to get the genset restarted until the sun came up in Seattle and they were able to confer with Northern Lights. The problem? A 12-volt fuel shutoff solenoid had been installed on the genset for this 24-volt boat. When it failed after many hours of running, it shut down the injection pump, which shut down the generator. Once the source of the problem was determined, the solenoid was bypassed and Atlantic Escort regained use of her generator.
--Other problems aboard the boats have been minimal, causing some inconvenience but not affecting main propulsion or safety. The Nordhavn 57 Goleen, for example, lost her hot water heater. The Nordhavn 50 Sundog may have a Furuno radar problem, but the consensus is that the radar had trouble seeing other yachts far away because of the big seas.
One skipper of a non-Nordhavn told me on the pier yesterday how impressed he is with everything that PAE is doing on this rally. PAE's owners and employees are truly seaman who go to sea and cross oceans in Nordhavns; unlike other boatbuilders, they understand ocean-crossing from being there and doing it. When there are problems like the Northern Lights generator failure on rally flagship Atlantic Escort, they feel the results and they learn from it. When they see other problems, they also learn. And the result is better boats. Period.
Seasickness took its toll. One yacht had a journalist onboard who was seasick from the sea buoy in Bermuda to the breakwater in Horta. She left the boat minutes after arrival in Horta promising that she will never venture out of sight of land. Another crew member on the same yacht has decided to fly ahead and meet the fleet in Gibraltar; she too was seasick every mile of the trip. However, most rally crew members seemed to find their sea legs a day or two from Bermuda, and seasickness was not a significant problem for most, even in the heavy seas confronting the fleet a few days from Horta.
The long passage on this rally is history, and now it's time to take on fuel and celebrate for a week before the final leg to Gibraltar, 1,200 miles away.
What a terrific event to be a part of, and what a great group of people!
--Milt
REPORT FROM SANS SOUCI
From Ken Williams aboard the Nordhavn 62 Sans Souci, writing for his weblog at http://sanssouci.talkspot.com/
Subject: Day 34 - the rest of the story Date: Sat, 12 Jun 2004 06:15:57 -0400
My email yesterday contained several inaccuracies. At the time it was sent, the boats had not yet returned to port, and information was sketchy. Since that time, I have spoken with the crew members from Uno Mas and Autumn Wind, and know a bit more about what occurred. I'm sure that I still do not have the full story, as when I saw the crews, they were just in from 12 long days at sea, and talking to me was NOT the foremost thought on their minds.
Autumn Wind, as I had reported, did foul their main prop with a fishing net. After running for some time on the wing engine, two young men from Atlantic Escort, Justin Zumwalt and James Leishman, dove beneath the boat to see if they could free the prop. As calm seas were still days away, they dove under the boat wearing only face masks, in 10 foot seas. I will ask when I see them why they did not wear tanks. My assumption is that they felt safer without the tanks. After many attempts, they were finally able to cut through a couple of the lines. Autumn Wind[base ']s prop was impossible to clear completely, but they were able to get it turning with most of the mass still attached. Brad Smith, who was on Autumn Wind, reported that they found that at 1700 rpm the vibration wasn't too bad and were able to make it into port.
I incorrectly reported that Satchmo had stabilizer problems. I had their story crossed with that of Uno Mas. I still have not spoken with anyone from Satchmo, but am told their main engine AND their wing engine quit. The problem was fuel related, and was solved reasonably quickly.The Uno Mas story amazes me, both their story from yesterday, and their overall story. Uno Mas, a Nordhavn 40, is the smallest boat in the rally. I do not know whether or not its size was a factor, but yesterday Uno Mas was knocked over by a wave. They were running in beam seas (meaning the waves were coming at the boats from the side) and got caught in a squall, with winds gusting to 50 knots. According to the Uno Mas crew, a wave rolled them over to at least a 45-degree angle. On Uno Mas, the electric inverter is located in the lazerette, in the cockpit of the boat. The lazerette is a space beneath the floor, in the open portion of the back deck of the boat. When the back of the boat was partially submerged, water leaked into the lazerette and fried the inverter. The inverter is responsible for generating 110-volt current from 12-volt batteries. Alarms immediately started sounding. As it was described to me, I couldn't tell if we were on fire, or if we were sinking. The high-water alarms were sounding, and smoke was pouring from the lazerette.
Once Uno Mas had righted itself, the crew cut power to the inverter. I did not ask whether or not the main engine quit, but assume that it continued running. The Uno Mas crew was able to get moving again, but found that without 110 current, the cooler for their stabilizers would not work. Without stabilizers, Uno Mas was being tossed about by the waves in an unacceptable, and dangerous, manner. They were able to run a generator, to make 110 electricity, but unfortunately, the electricity from the generator had to pass through the inverter before reaching the stabilizer cooler, and the inverter was hopelessly fried.
Atlantic Escort gave radio guidance on rerouting the power around the inverter, but Uno Mas's crew had difficulty knowing which wires to cut or reroute. They were assisted, by Justin Zumwalt, from Atlantic Escort, who SWAM to their boat in the high seas. After a bit of rewiring, they were under way, with the generator providing the electricity needed to cool the stabilizers.
I asked how many crew members were aboard Uno Mas, and was surprised to learn that the entire crew of three persons was standing before me. (Note: they gave me their names, but as we were shouting at each other while packed elbow to elbow at Cafe Sport, I seem to have forgotten them, if I ever clearly heard them). When I remarked on how impressed I was that they were able to make the passage with only three crew members they said that three was a luxury! Two of them, John and Sue Spencer, the owners, had brought the boat to Florida from Alaska alone, with the two of them alternating three-hour shifts on the long passages.
There are some amazing people on this rally!
One last comment on Uno Mas. Those of you have been reading my updates for a while will remember that they were transferred 100 gallons of fuel about halfway across the Atlantic. I had to ask how much fuel they had at arrival. The answer: 101 gallons!
Ken Williams Sans Souci, 6209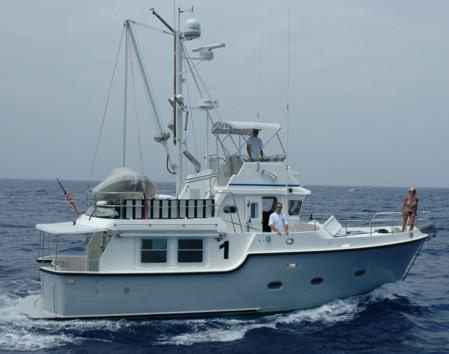 The Norhavn 40 Uno Mas, with owners John and Sue Spencer and one crew, during the smooth portion of Leg 2 to the Azores.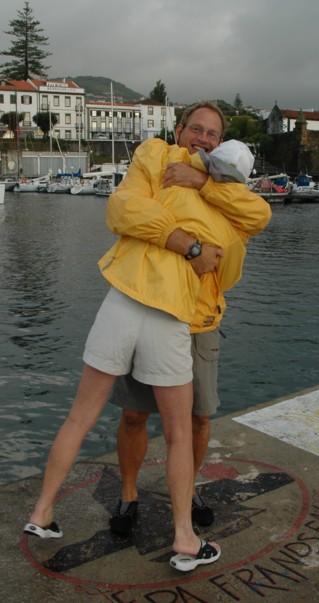 Scott Strickland gives wife Teri a huge hug for hanging in there during the 12-day passage to the Azores from Bermuda.
SUNDAY JUNE 13 1430
Time to get caught up, starting with the following two posts from Ken Williams and Milt Baker.
The Azores are charming, quaint. and inexpensive--and religious. Igreja Matriz de Sao Salvador, the main Roman Catholic church on Faial, was standing-room -only for mass this morning.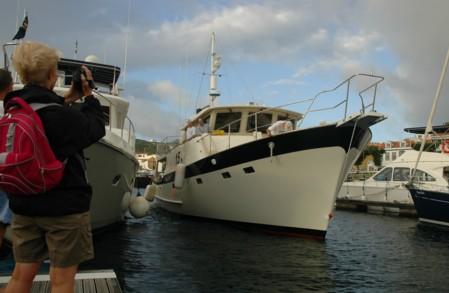 Joan Kessler captures the arrival of the Krogen 58 Sea Fox at crowded Horta Marina.
Trawler Transatlantic 2004-Welcome
Leg 1 Fort Lauderdale, Florida, to Hamilton, Bermuda:
Leg 1 photos Wednesday, May 26, 2004
Leg 1 photos Thursday, May 27, 2004
Leg 1 photos Friday, May 28, 2004
Getting ready to depart for the Azores
Leg 2 Hamilton, Bermuda, to Horta, Azores Sunday, June 6, 2004
Leg 2 Hamilton, Bermuda, to Horta, Azores Saturday, June 12, 2004
Leg 2 Hamilton, Bermuda, to Horta, Azores Sunday, June 13, 2004
Leg 2 photos Tuesday, June 15, 2004
Leg 2 photos Tuesday, June 20, 2004
Leg 2 photos Monday, June 28, 2004
Leg 3 Horta, Azores, to Gibraltar, Gibraltar Tuesday, June 29, 2004
Leg 3 Horta, Azores, to Gibraltar, Gibraltar Wednesday, June 30, 2004
Leg 3 Horta, Azores, to Gibraltar, Gibraltar Friday, July 2, 2004
A challenge well met Thursday, July 8, 2004
A challenge well met Friday, July 9, 2004