Thursday, May 27, 2004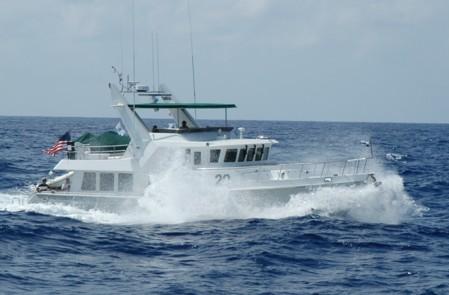 The Nordhavn 57 Atlantic Escort, the rally command vessel, is able to hurry around the fleet at will doing 9+ knots.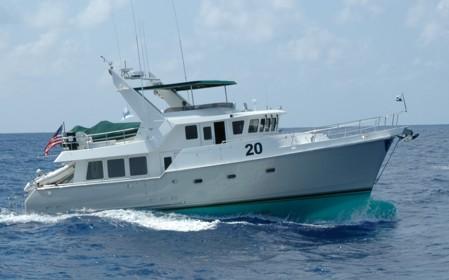 Atlantic Escort kicks up her heels and shows her bulbous bow.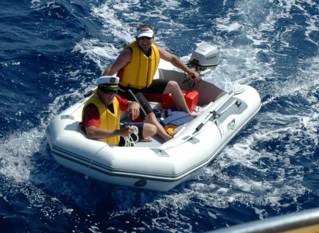 PAE's James Leishman and Justin Zumwalt deliver freshly caught dorado to us aboard Autumn Wind--which Bill Smith undercooked to perfection.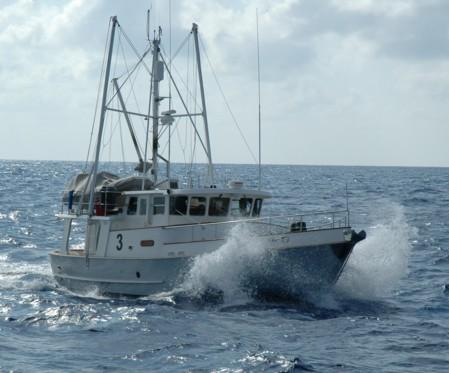 The Nordhavn 46 Envoy is owned by Wayne and Patricia Davis.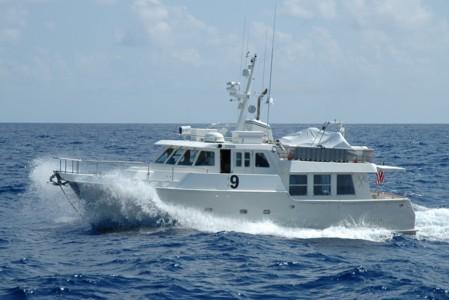 The Nordhavn 50 Sundog heads for Bermuda and points beyond.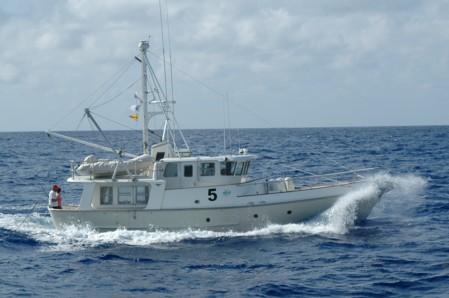 The oddest-name-in-the-fleet award goes to World Odd@Sea, a Nordhavn 46.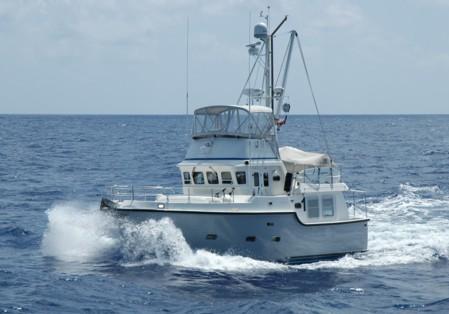 Uno Mas, a Nordhavn 40, is the smallest boat in the trans-Atlantic rally.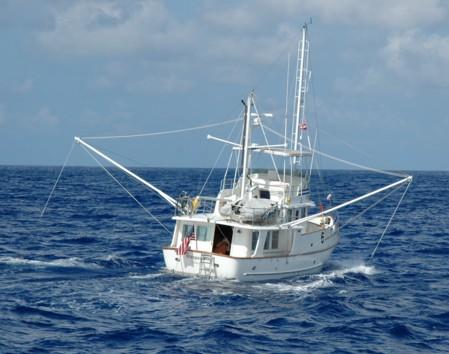 Paravanes stabilize the Nordhavn 46 Stargazer.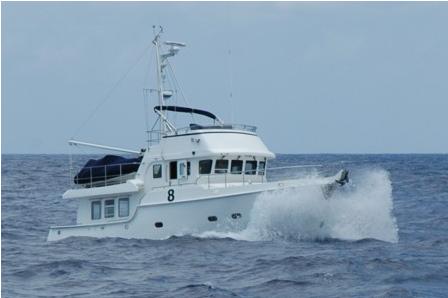 The Nordhavn 47 Strickly for Fun owned by Scott and Teri Strickland.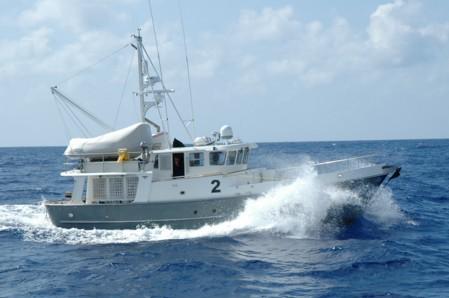 The Nordhavn 46 Satchmo en route to Bermuda.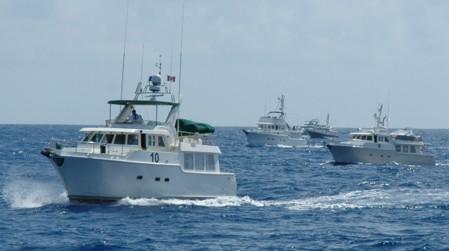 Once under way, the fleet was spread out over several miles of ocean, coming together for photo ops, as for this picture where the lead boat is the Nordhavn 50 Sundog.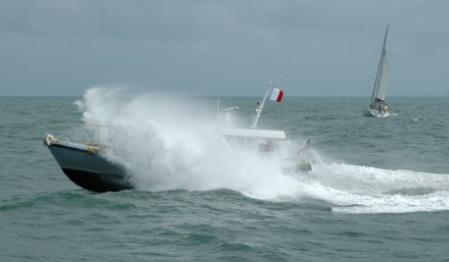 A Fort Lauderdale pilot boat speeding out to meet a customer illustrates there is a sea running as the Nordhavn Atlantic Rally gets under way.
From Les Levy, a weblog visitor comments: 6/1/04; 12:27:30 PM
I was aboard the 43'sailboat in the picture. We were turning south out of the inlet for a week in the Keys. What an incredible sight to see all those salty looking trawlers heading out Port Everglades! I had read about your Atlantic Rally so I knew what I was seeing and what perfect timing it was for me. I wish all captains and crew fair weather and clear sailing, uh...motoring. When I'm old enough, I plan to sell my sailboat and purchase one of those Nordhavens for myself (I'm only 58 yrs old now).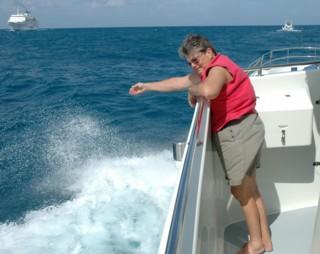 Aboard Autumn Wind, Arline Smith attempts to please the gods of the deep by tossing a flower into the sea. The tactic did not work all that well as things got bumpy during our first 24 hours at sea.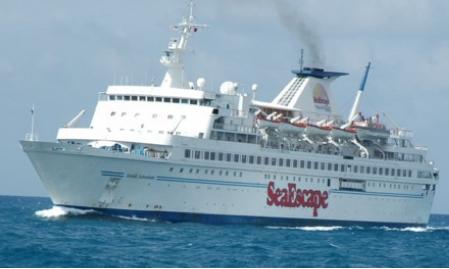 Also outside the jetty is our first encounter with vessels much larger than ours and therefore worthy of respect and wide berth.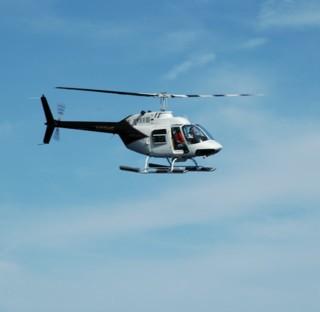 Just outside the jetty, we spot the helicopter carrying Bruce Kessler with cameraman David J. Shuler, shooting for the documentary on the rally. Some of the photography from the start of both divisions can be seen at http://www.nordhavn.com/rally/voyage/welcome.htm.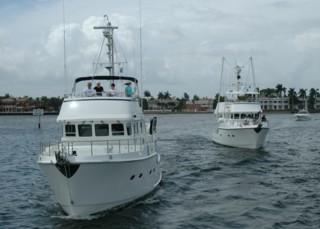 Two Nordhavn 47s, Strickly for Fun and Lady Di, follow us. Only Strickly for Fun, the front boat, is in the rally.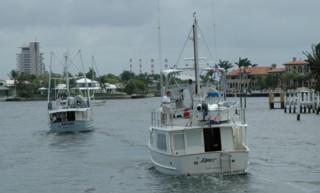 Satchmo and Egret, two Nordhavn 46s, are ahead of Autumn Wind.
Site see:
Trawler Transatlantic 2004-Welcome
Leg 1 Fort Lauderdale, Florida, to Hamilton, Bermuda:
Leg 1 photos Wednesday, May 26, 2004
Leg 1 photos Thursday, May 27, 2004
Leg 1 photos Friday, May 28, 2004
Getting ready to depart for the Azores
Leg 2 Hamilton, Bermuda, to Horta, Azores Sunday, June 6, 2004
Leg 2 Hamilton, Bermuda, to Horta, Azores Saturday, June 12, 2004
Leg 2 Hamilton, Bermuda, to Horta, Azores Sunday, June 13, 2004
Leg 2 photos Tuesday, June 15, 2004
Leg 2 photos Tuesday, June 20, 2004
Leg 2 photos Monday, June 28, 2004
Leg 3 Horta, Azores, to Gibraltar, Gibraltar Tuesday, June 29, 2004
Leg 3 Horta, Azores, to Gibraltar, Gibraltar Wednesday, June 30, 2004
Leg 3 Horta, Azores, to Gibraltar, Gibraltar Friday, July 2, 2004
A challenge well met Thursday, July 8, 2004
A challenge well met Friday, July 9, 2004