Tuesday, June 15, 2004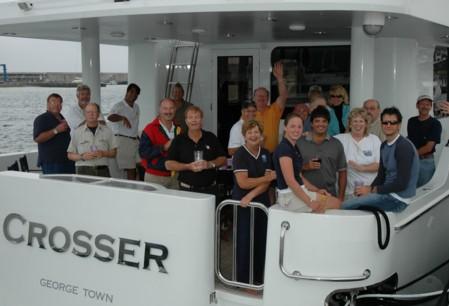 Let the partying begin! Sangria and freshly baked chocolate-chip cookies attract crews from other boats to Crosser, at 90-feet, the largest yacht in the rally.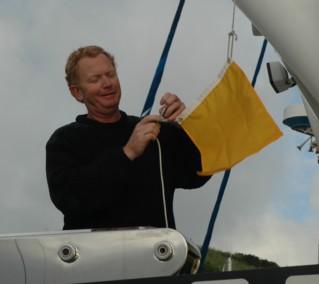 A sure sign that a passage has ended in a foreign port is demonstrated by Charles Metcalf as he hauls down the quarantine flag aboard Four Across in Horta.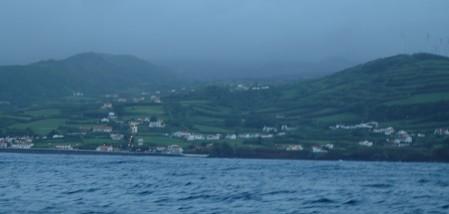 The island of Faial presented itself in a mist on our last morning at sea. Nevertheless, the distinctive white houses and and deep green of the Azores were clearly visible. Horta, our destination port, is tucked away on the southeast corner of Faial.
We stepped ashore at 0707 on June 11, seven minutes later than expected when we started out from Bermuda almost 1,900 nm distant. Indeed, this is passagemaking with dispatch as first promoted by Bob Beebe.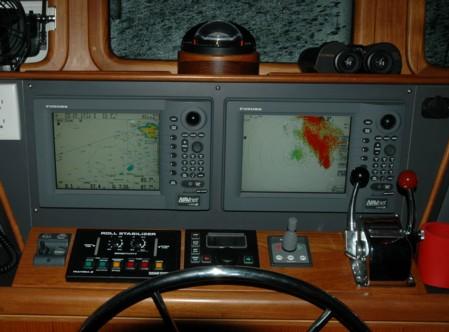 On the chart plotter at left, the islands of the Azores appear for the first time. On the radar at right, another rain squall bears down on Strickly For Fun.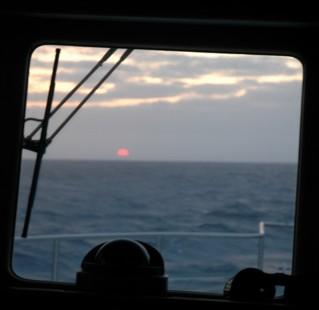 Dawn is always welcome at sea, and never more than after a rough night.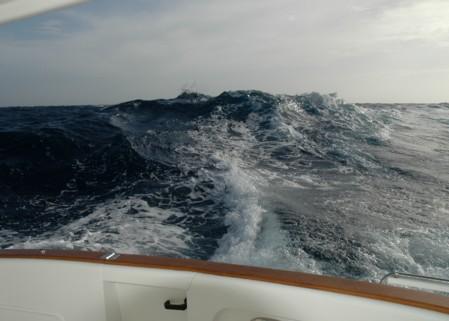 Big seas are always difficult to photograph from a small boat. They never look as big or threatening in one dimension. We encountered 8-to-10-foot seas for much of the final 500 nautical miles, and winced on occasion when a larger wave came calling.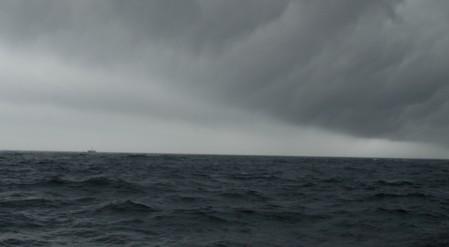 A rain squall chases the Krogen 58 Sea Fox as the weather continues to deteriorate. At night and during times of poor visibility, we always separated at least by a half-mile and often more.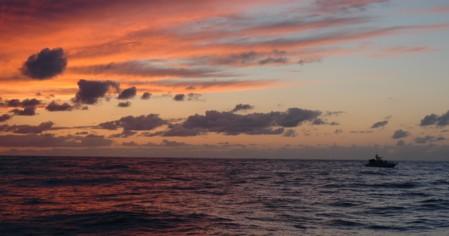 The Nordhavn 50 Four Across hurries along to Bermuda under a sky that turned ominous as our second week at sea began.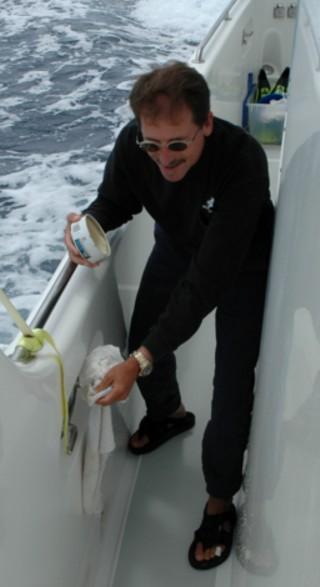 Boat chores were looked after even under way. Here, Jon Ehly attends to the stainless while lucky me got to help Scott Strickland clean the bilges, a two-afternoon job on Strickly For Fun. Poking around the "basement" of the boat sure gave me an excellent overview of where what is connected and located, and revealed a huge amount of storage space aboard the Nordhavn 47.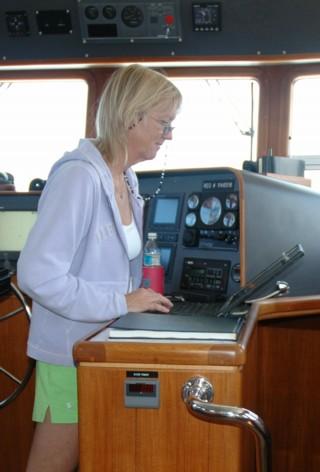 Email wasn't always easy to get off Strickly For Fun. The new Skymate service was a disappointment, and not only aboard our boat. SailMail was reliable but dependent upon atmospheric conditions as it is sent via single-sideband radio which threatened to do weird things to our autopilot and stabilizers.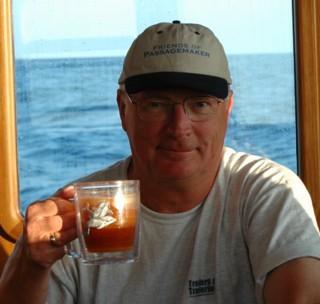 I celebrated the halfway point by putting on my Friends of Passagemaker cap and trying Passagemaker Tea, that is, tea sweetened with Tang and laced liberally with rum. Bob Beebe, who designed Passagemaker and wrote Voyaging Under Power, originated the beverage. More info about the campaign to save the original Passagemaker is available at a link on the right.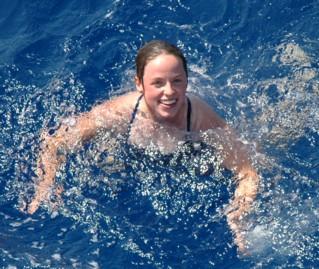 Nineteen-year-old Jen Alloway, crew on Four Across, is the youngest participant in all three legs of the rally. The Canadian engineering student learned to swim before she could walk and started driving her own Whaler with a 30-hp motor at age 8.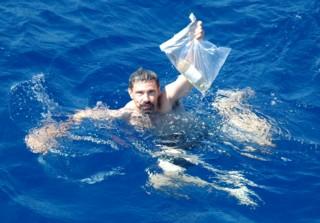 Doug Seaver of Four Across swims a bottle of chardonnay over to Strickly For Fun to say thanks to Scott Strickland for the advice he provided by VHF on how to reset an inverter.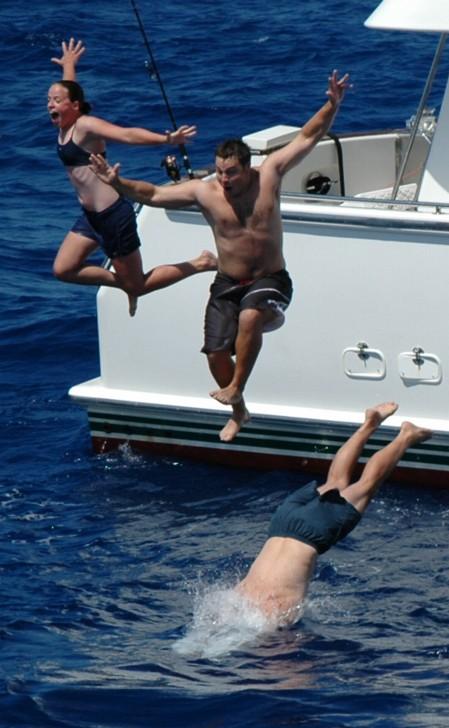 To celebrate reaching the halfway mark in our North Atlantic crossing, several crews went for a swim, and other boats toasted the occasion in their own ways. Here, the crew of the Nordhavn 50 Four Across dives into 17,000 feet of ocean.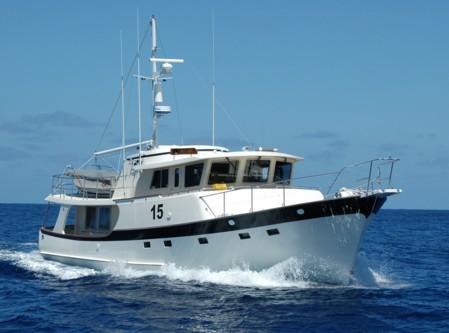 For the second leg, the Krogen 58 Sea Fox chose to run with the group of smaller boats in the rally fleet, rather than hammering away with the larger boats. Says Dennis Fox, "Every hour you run your engine hard is one less hour it will last."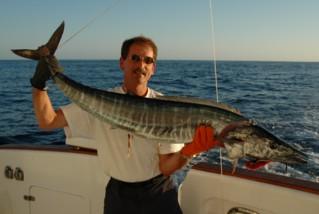 Finally, we catch fish! Jon Ehly holds the 40-45-pound wahoo he landed in about 15 minutes.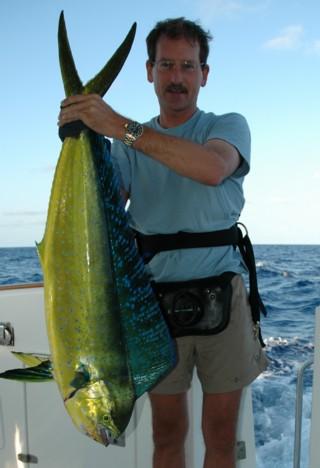 The tasty dorado that took Jon's lure the next day. Alas, we never did land tuna and, thus, I still have the wasabi I brought with me for sashimi.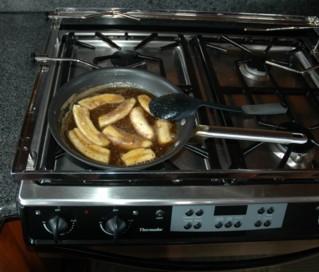 Yum, yum! Bananas Foster, made with excellent Bermudian rum, are a fine way to consume the last of our bananas.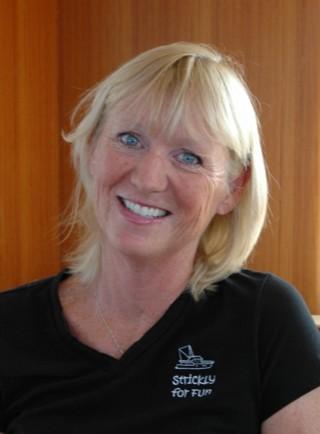 Teri Strickland, an award-winning computer saleswoman before she took early retirement, loves to cook--and it showed in the meals served aboard Strickly For Fun.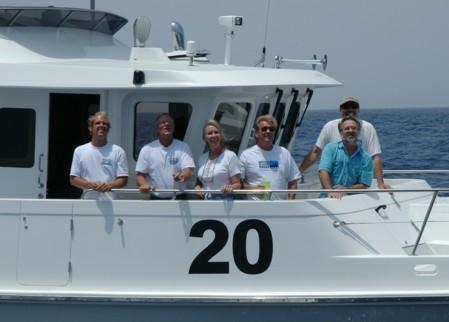 I hated abusing the power of the press in this manner, but under the ruse of wanting to take a crew photograph, we lured Atlantic Escort to come closer and assemble its crew on the Portuguese bridge. Too late, they realize they are being bombarded with water balloons.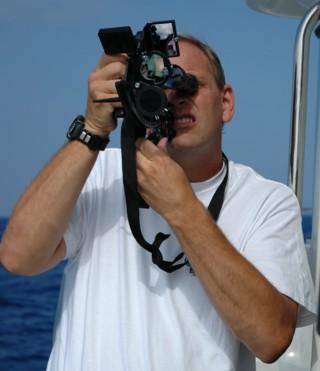 Although there was a redundancy of GPS units aboard Strickly For Fun, Scott Strickland determined our position by sextant and celestial navigation--and got within 40 miles of the location indicated on GPS.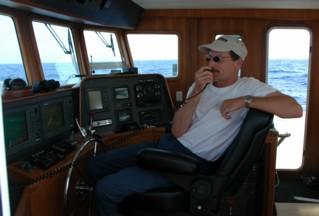 During daylight hours, VHF conversation between boats was frequent, lively and often humorous. Jon Ehly is shown on the radio while on watch aboard Strickly For Fun.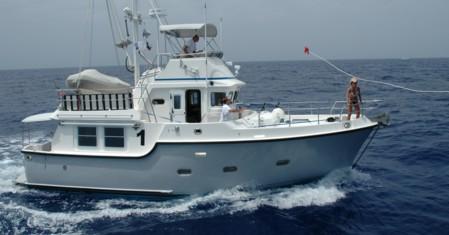 How to pass the time while at sea for 12 days? Well. how about practising the tossing of a line to another boat so that books can be exchanged. Here, Uno Mas prepared to receive a line from Strickly For Fun. We sent a book to Sue Spencer. In return, Uno Mass passed mahi mahi (caught in the Pacific and frozen) to us.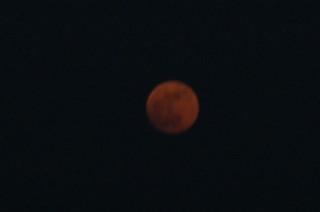 The first days of the passage to the Azores were gorgeous, with sunny skies and relatively flat seas. The full moon made for lovely nights under way. Scott Strickland aboard Strickly For Fun described the third night as the finest night he has ever had in boating. A week later, his wife, Teri, would remark that she was experiencing the worst days and nights ever at sea.
Sorry for the delay in getting photos up from the second leg. What with interviews, sightseeing and savoring local cheeses and wines, the last three days have been a blur.
For the third and final leg, I'll be aboard the Nordhavn 57 Goleen. We depart Thursday for a visit to the Azorian islands of Terceira and Sao Miguel before starting out for Gibraltar.
To: NAR-2004 Fm: O.M.N.I. NJ/USA 0200Z 15 JUN 2004
For Thurs/17th transit to Terceira then Fri/18th Sao Miguel: - Prevailing wind stream of NE'ly wind and NE swell are being generated by the resident 1034mb high pressure cell west of Lands End/UK near 50N 13W, with its ridging to west of the Azores. For transit Thu/17-AM to Terceira or Sao Miguel expect: Winds E'ly 05-12kt and NE 4-6ft swell outset, becoming variable 10kt or less during Thu/afternoon, S-SW 05-14kt and 4-5ft swell late Thu into Fri/noon.
- The prevailing ridge will weaken to the SW, bringing some variable light winds to the Azores waters Thu/17 afternoon into Fri/18 morning, but new, weak low pressure will move NE'ward across waters NW of the Azores, changing the prevailing wind stream thru and just east of the Azores to a W-NW wind, with a generally moderate WNW fetch thru the region.
- Will likely see some weather, showers and locally gusty winds, moving SW to NE early Sat/19 into Sun/20.
- Ext/outlooks suggest a broad high pressure system resident between the Azores and Portugal Mon/21-Wed/23, and if verifies, could bring some moderate weather to the Rally transit to Gibraltar. Will need to watch the Easterly winds thru Gibraltar Strait for the week.
B/Rgds, Walt/OMNI
Site see:
Trawler Transatlantic 2004-Welcome
Leg 1 Fort Lauderdale, Florida, to Hamilton, Bermuda:
Leg 1 photos Wednesday, May 26, 2004
Leg 1 photos Thursday, May 27, 2004
Leg 1 photos Friday, May 28, 2004
Getting ready to depart for the Azores
Leg 2 Hamilton, Bermuda, to Horta, Azores Sunday, June 6, 2004
Leg 2 Hamilton, Bermuda, to Horta, Azores Saturday, June 12, 2004
Leg 2 Hamilton, Bermuda, to Horta, Azores Sunday, June 13, 2004
Leg 2 photos Tuesday, June 15, 2004
Leg 2 photos Tuesday, June 20, 2004
Leg 2 photos Monday, June 28, 2004
Leg 3 Horta, Azores, to Gibraltar, Gibraltar Tuesday, June 29, 2004
Leg 3 Horta, Azores, to Gibraltar, Gibraltar Wednesday, June 30, 2004
Leg 3 Horta, Azores, to Gibraltar, Gibraltar Friday, July 2, 2004
A challenge well met Thursday, July 8, 2004
A challenge well met Friday, July 9, 2004