Saturday, May 29, 2004
SATURDAY MAY 29 2315
The smaller boats are ready to depart Bermuda at 0800 on Sunday for the Azores about 1,800 nautical miles across the pond. As you can see in the weather forecast from Walt Hack a few posts down, conditions will be a bit bumpy at first but then should improve, similar to what we heard prior to departure from Fort Lauderdale.
This is the longest leg across the Atlantic, with the distance being what separates true passagemakers from poseurs. (Note to the marketing departments of trawler-yacht builders: If your boat cannot make it across this 1,800 nm stretch of the Atlantic, don't call the thing a passagemaker!)
We should be at sea about 12 days, our pace dictated by our smallest vessel, the Nordhavn 40 Uno Mas.
At the final briefing this afternoon, we heard that Uno Mas will start out conservatively, running its Lugger at 1,400 rpm which should produce 6 knots of boat speed with fuel consumption at 2 gallons per hour. The idea is to proceed cautiously for the first two or three days, recalculating fuel burn every 24 hours. Once real-world data for this stretch of ocean this week in this boat is in hand, we may be able to increase speed.
At the farewell dinner tonight, most folks seemed eager to get under way again. I'm in that camp too, looking forward to my time aboard the Nordhavn 47 Strickly For Fun with owners Scott and Teri Strickland and one other crew, Jonathan Ehly.
Teri is the one who provided that great quote early in this weblog: "My husband is having a middle-life crisis, and he's invited me along."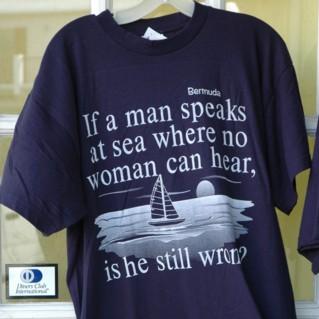 Best T-shirt of the thousands for sale in Bermuda.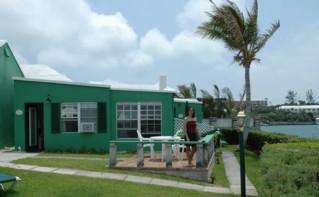 Greenbank, small cottages a 10-minute ferry ride from Hamilton, is home away from home during the week in Bermuda.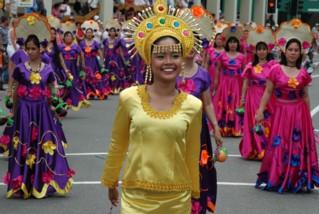 Bermuda Day is celebrated on May 24 with a colorful parade and other festivities in downtown Hamilton, footsteps from the rally fleet at Royal Bermuda Yacht Club.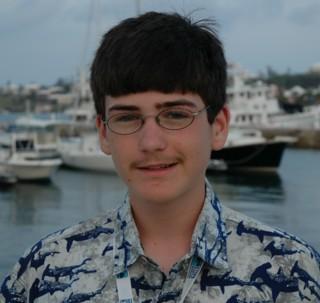 Thirteen-year-old Sean Ehly, first-leg crew on the Nordhavn 47 Strickly For Fun, is the youngest participant in Nordhavn Atlantic Rally 2004.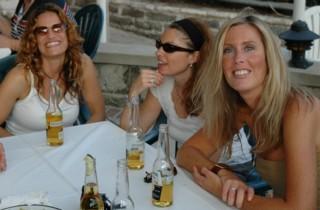 Enjoying themselves in Bermuda is the rally advance team from PAE, Amy Zahra, left, Jenny Stern, and Leah McGettigan.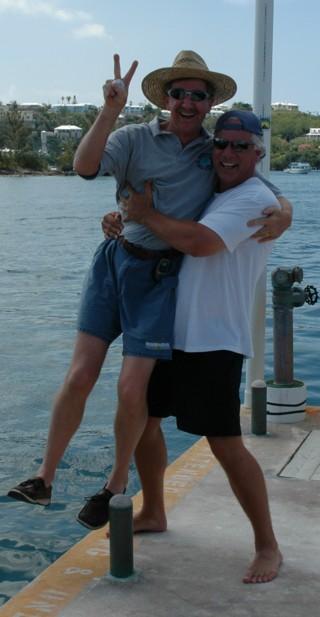 Dan Streech, president of Pacific Asian Enterprises, almost is thrown into the water at the successful conclusion of the first leg by Mark Wildman who crewed with him aboard the Nordhavn 62 Sans Souci.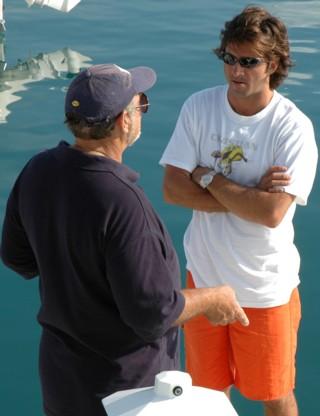 Among the celebs taking part in the rally are Kadey-Krogen honcho Kurt Krogen, photo below, crew on the Krogen 58 Sea Fox for the first leg, and race driver Christian Fittipaldi, shown chatting with circumnavigator Bruce Kessler on the docks at Royal Bermuda Yacht Club. Fittipaldi, nephew of Formula One and Indianapolis 500 champion Emerson Fittipaldi, has had his own successes, notably on the CART circuit and earlier this year in the 24 Hours of Sebring. Fittipaldi was crew on the Nordhavn 62 Sans Souci, also for the first leg.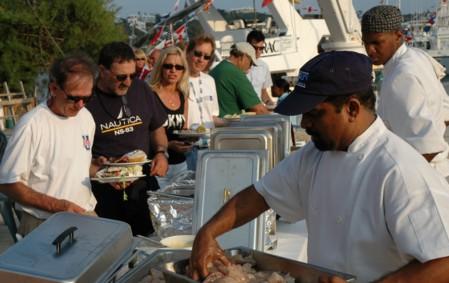 Kurt Krogen, president of Kadey-Krogen Yachts, fourth from left, and friend at Royal Bermuda Yacht Club welcome barbecue.
Site see:
Trawler Transatlantic 2004-Welcome
Leg 1 Fort Lauderdale, Florida, to Hamilton, Bermuda:
Leg 1 photos Wednesday, May 26, 2004
Leg 1 photos Thursday, May 27, 2004
Leg 1 photos Friday, May 28, 2004
Getting ready to depart for the Azores
Leg 2 Hamilton, Bermuda, to Horta, Azores Sunday, June 6, 2004
Leg 2 Hamilton, Bermuda, to Horta, Azores Saturday, June 12, 2004
Leg 2 Hamilton, Bermuda, to Horta, Azores Sunday, June 13, 2004
Leg 2 photos Tuesday, June 15, 2004
Leg 2 photos Tuesday, June 20, 2004
Leg 2 photos Monday, June 28, 2004
Leg 3 Horta, Azores, to Gibraltar, Gibraltar Tuesday, June 29, 2004
Leg 3 Horta, Azores, to Gibraltar, Gibraltar Wednesday, June 30, 2004
Leg 3 Horta, Azores, to Gibraltar, Gibraltar Friday, July 2, 2004
A challenge well met Thursday, July 8, 2004
A challenge well met Friday, July 9, 2004