Friday, May 28, 2004
From Jenny Stern of Pacific Asian Enterprises, here are the journalists imbedded for the second leg:
Bing O'Meara of Lakeland Boating: Autumn Wind, Peter Swanson for Yachting: Atlantic Escort, Brad Kovach of Motorboating: Atlantic Escort, Kate Bruhnel-Cohen of Motorboat & Yachting: Goleen, Georgs Kolesnikovs of Power Cruising and Circumnavigator: Strickly For Fun.
I hope to do better with my own blog during the next leg. There are several ways for me to get email off Strickly For Fun so there should not be total silence there was after departure from Bermuda, and a source of great embarrassment for me personally.
FRIDAY MAY 28 2245
I'm baching it tonight, feasting on baked potatoes and Mini Babybel cheese to replenish carbohydrates and protein after a 6-mile walk/run. Significant Other is in town--actually, she is at Aqua, the high-end Michael Douglas restaurant--meeting a friend who is in her fifth year of working for Bank of Bermuda.
I saw the other side of Bermuda tonight along the former railway line running down the center of the island. It is the Bermuda of ordinary folk, black and white, living inland, a reminder where the heart of Bermuda resides. It is the Bermuda of roosters crowing, even at dusk, of hens and chicks scattering at my approach, of barbecues and Friday night gospel meetings, of tree frogs singing.
The Bermuda I saw certainly was not the million- and multi-million-dollar cottages along Bermuda's coast line, the prim and proper business bustle of Hamilton, the capital, or the privilege of Royal Bermuda Yacht Club.
Tomorrow is the last day in Bermuda prior to departure Sunday at 0800.
It has been a hectic week, with me torn between getting pictures selected, cropped, uploaded to the blog, and working on my assignments for Power Cruising and Circumnavigator, and helping get the Nordhavn 47 Strickly For Fun ready for the passage to Azores, and spending time with Significant Other. As I'm going to be away from home for two full months, in my time management, I have erred in favor of Significant Other.
Msg 2/2 -- BECAUSE OF THE PREVAILING WEST TO WNW WIND STREAM AND WAVE DIRECTION EXPECTED FOR SUNDAY/30TH THROUGH TUE/01ST, WE SUGGEST AN EASTERLY COURSE FROM DEPARTURE BERMUDA TO NEAR 55W, THEN THE RHUMB LINE TO APPROACHES HORTA. This route adds about 35-40nm to the rhumb line distance, but better follows the wind/sea and minimizes wave heights a bit.
-- Wind/sea conditions for the SLOW GROUP departure will be a bit variable on Sun/30, but should remain in the Force/4-5 range and wave in the 4-7ft range from the W-WNW. By reaching 55W, wind and sea will dominate W-WSW and some SW with West swell in the 4-7ft range. There may be some occ larger wave sets.
-- Weather will be a bit unruly during Sunday due to the frontal boundary in the area, with some showers, light rain, and possibly a thundershower or two until the weather clears Sunday/night and remains generally fair with isolated shower activity thru Wed-Thu. -- Will update Sat/29 with track conditions. BRgds, Walt/OMNI
Msg 1/2 Fm: Ocean Marine Nav, Inc. NJ/USA 2000Z 05/28/04
-- Fairly ominous-looking surface weather pattern across portions of the western Atlantic today, with low pressure already past Bermuda and now south of Newfoundland's Grand Banks, and another developing low pressure area over the US Northeast moving NE thru the Canadian Maritimes. It will the associated weather front of this 2nd low pressure center that will pass Bermuda during Sunday/30th-morning about daybreak with some showers and locally gusty winds.
-- Dominant weather feature across the sub-tropics will remain the high pressure ridge that presently lays from a 1028mb high pressure cell south of the Azores near 32N 30W to 25N 55W to a 1020mb cell north of the Dominican Republic near 26N 69W, to southern Florida and its Keys. This high pressure ridge will migrate northward again in the coming 3-4 days, but still remain south of the intended NAR2004 route. Notably, the high cell now south of the Azores will move north into the Azores waters by Tue/01st and remain nearly stationary for the following 4-5 days at least.
NORDHAVN ATLANTIC RALLY COMMENTARY
From Milt Baker, NAR Organizing Committee - May 23rd.
Leg one of the Nordhavn Atlantic Rally 2004, the first-ever Atlantic crossing by a large convoy of motor yachts, is history.
All 18 rally yachts and their nearly 100 crewmembers arrived safely in Hamilton, Bermuda, at the Royal Bermuda Yacht Club on Saturday, May 22, and the rally fleet's first experience with "Med mooring" was smooth as silk--thanks in large measure to good preparation by rally skippers and crews and to light winds and very flat conditions.
For most of the yachts, the trip was about 990 nautical miles.
Division 1, the slow division, departed Fort Lauderdale Sunday afternoon, May 16, in 15-20 knot easterly winds, gusting to 25, and 5-6 foot seas. The 11 Division 1 yachts were led by Nordhavn's company yacht, the Nordhavn 57 Atlantic Escort, skippered by Pacific Asian Enterprises (PAE) vice president Jim Leishman.
The start was documented on video under the direction of Bruce Kessler, who is making a video production on the rally. At times, three helicopters were in the air off Fort Lauderdale with video and still cameras rolling. After the start, the yachts settled down on the slow slog to Bermuda.
To provide a more comfortable ride, rally weather forecaster Walter Hack of Ocean Marine Navigation Inc. called for the fleet to follow the Gulf Stream for 180 miles north before turning for Bermuda. That added about 70 nautical miles to the trip, but by all accounts it worked. By the time Division 1 boats turned for Bermuda, wind and seas were down.
"It was a little bumpy for the first day and a half," one rally crewman reported, "but I think we'd all seen worse. And then it got dramatically better!" The yachts' stabilizers helped a great deal.
The 11 division 1 yachts traveled within sight and VHF radio range of one another all the way to Bermuda. At night they maintained a minimum distance of one nautical mile from one another, and the closed in a bit during the daytime.
Division 1 escort vessel was the Nordhavn 62 Autumn Wind, captained by Bill Smith. Division leader Brad Smith, a PAE employee, was aboard Autumn Wind, and he quickly learned that his expertise was much in demand. Technical questions for Brad came rapidly, and division 1 skippers found him a terrific resource.
The seven Division 2 yachts, larger and faster, departed Fort Lauderdale 24 hours after the first yachts. Their forecast also called for heading 180 miles north in the Gulf Stream before turning. All but one of these yachts followed the recommendation and traveled together, but skipper Bob Rothman of the Nordhavn 57 Emeritus decided to take the most direct course to Bermuda and traveled outside the group. He slowed down on the approach to the island, arriving with the rest of the fleet.
Division 2 escort vessel was the Nordhavn 62 Sans Souci, owned by Ken and Roberta Williams and skippered by Capt. Rip Knot. Acting as division leader aboard Sans Souci was PAE president Dan Streech who did his best Robin Williams imitation on the daily roll calls, opening with a few seconds of rock music followed by a hearty "Goooooood morning Division One!"
Two days out of Bermuda, one crewmember called the weather "oily calm," and another called it perfect trawler weather. The fleet launched small boats, took pictures of one another, swam in 15,000 feet of ocean water, and even delivered lattes to one yacht whose precious cappuccino machine had ceased to function.
PAE is sponsoring the rally is provide owners and crewmembers an opportunity to take part in a safe and enjoyable ocean-crossing event, experience the personal challenge of crossing the Atlantic aboard their own vessels, and enjoy the camaraderie of voyaging with friends and a degree of added safety by having other vessels nearby. Rally staff members travel ahead of the fleet, easing official clearance and making advance arrangements for dockage, duty free fuel and other luxuries and necessities in each port. A physician and two EMTs travel with the fleet, along with PAE technicians and other experts.
Problems aboard rally yachts were remarkably few. Three yachts experienced problems with active fin stabilizer systems, but two of the three ended the passage with stabilization from their systems. One yacht's watermaker ceased to function, and at least one other watermaker was reported leaking. Thanks to satellite telephones and e-mails, parts for the systems were ordered and are expected to meet the boats during the Bermuda stop.
Fuel system problems are common aboard small yachts on offshore passages, especially when the weather is rough. However, the NAR fleet had virtually no fuel problems. A few of the yachts reported changing filters due to dirt in fuel taken on before departure and one broke a fuel fitting, but everything was handled onboard with no significant loss of time or speed.
The yachts reached Bermuda right on schedule, passing Five Fathom Hole at the entrance to the 17-mile channel into Hamilton at first light Saturday and arriving at the Royal Bermuda Yacht Club a few hours later. All 18 yachts were Med moored at the yacht club well before noon, and the demand for lunch on RBYC's scenic patio all but overwhelmed the club's staff.
The Nordhavn Atlantic Rally yachts will be at RBYC for about a week. Division 1 yachts depart for the rally's longest leg--1,800 nautical miles to Horta on the island of Faial in the Azores--on Sunday, May 30, and Division 2 yachts on Tuesday, June 2. All are scheduled to arrive in Horta on Friday, June 11.
After a little over a week in Horta, the yachts depart for the final leg, 1,125 nautical miles to Gibraltar.
The rally fleet consists of 18 yachts ranging from 40 to 90 feet, all but three of them Nordhavns. The yachts include:
Nordhavn 40 Uno Mas, John and Sue Spencer Nordhavn 46 Satchmo, Bill and Ellen Bane Nordhavn 46 Envoy, Wayne and Pat Davis Nordhavn 46 Egret, Scott and Mary Flanders Nordhavn 46 World Odd @ Sea, John and Dulcie Harris Nordhavn 46 Star Gazer, Michael Perfit and Kevin Keith Nordhavn 47 Strickly for Fun, Scott and Terri Strickland Nordhavn 50 Sundog, Robert Greenbaum Seaton 55 Que Linda, Hal and Linda Wyman Nordhavn 50 Four Across, Doug Seaver and Charles Metcalf Nordhavn 57 Goleen, Chris Samuelson and Sonaia Hermida Nordhavn 57 Atlantic Escort, Jim Leishman Nordhavn 57 Emeritus, Bob and Janis Rothman Krogen 58 Sea Fox, Dennis and Julie Fox Nordhavn 62 Grey Pearl, Braun and Tina Jones Nordhavn 62 Autumn Wind, Bill and Arline Smith Nordhavn 62 Sans Souci, Ken and Roberta Williams Monk McQueen 90, David Stone
--Milt Baker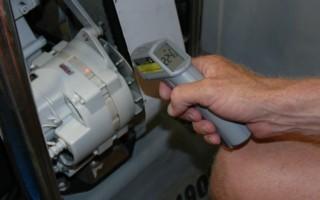 Later, I'll post an item on what temps Brad Smith believes are crucial to the wellness of machinery in the engine room of a trawler yacht.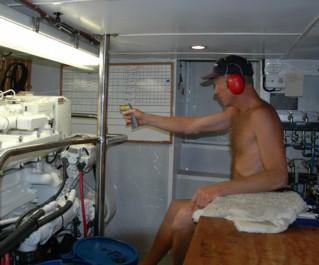 A bunch of well-placed shots with the heat gun gives Brad Smith a quick overview of how things are working in the engine room af Autumn Wind.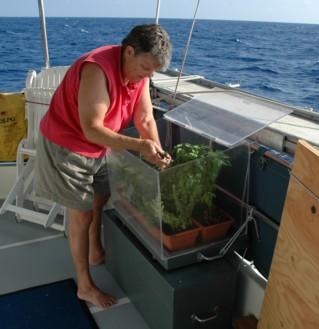 Arline Smith tends to her herb garden on the upper aft deck of Autumn Wind.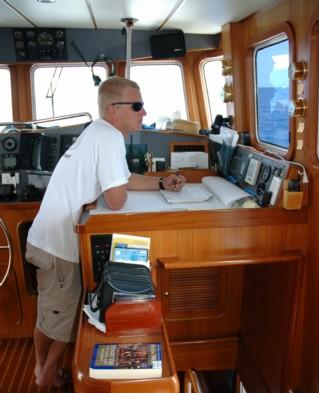 Aboard Autumn Wind, watchstanders make an hourly engine-room inspection and log entry.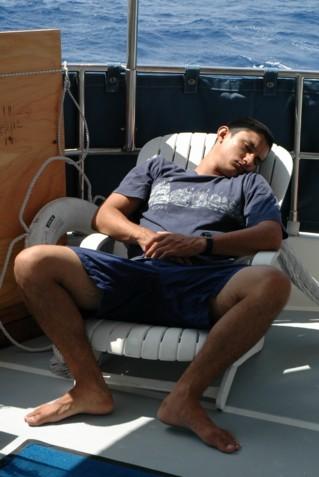 How to pass the time on a long passage? Try snoozing.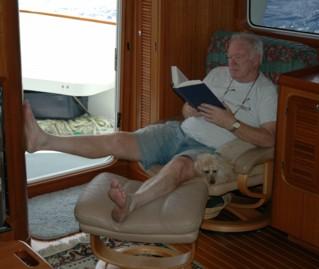 How to pass the time on a long passage? Try reading.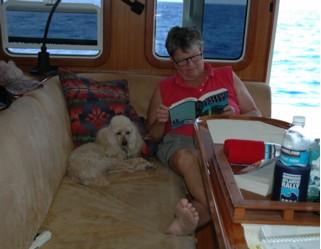 How to pass the time on a long passage? Try reading.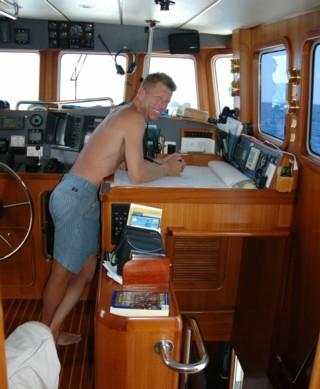 Brad Smith and other PAE personnel are being kept busy, doling out advice on the VHF when mechanical problems pop up. Most problems had to do with stabilizers, with watermakers second.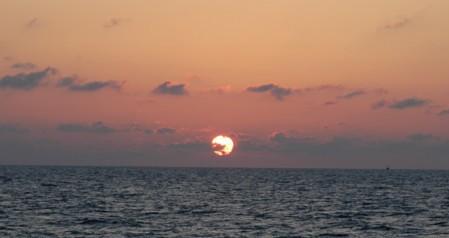 How many sunrise shots do I plan to post?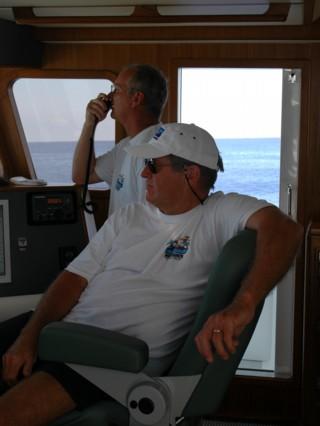 Aboard Atlantic Escort, Dr. Kevin Ware dreams of being 20 years old again while Jim Leishman calls an end to the water-skiing.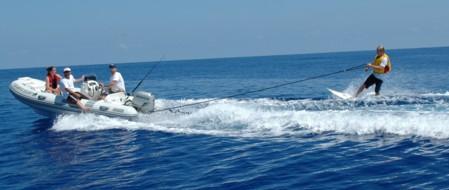 James Leishman takes his turn on the tow line.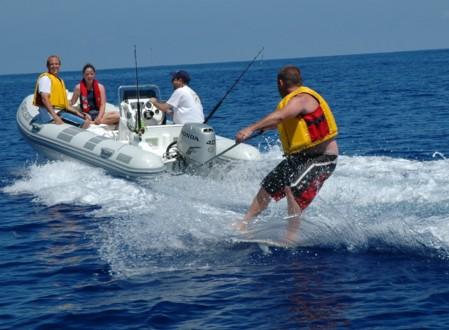 How to pass the time on a long passage: Take the only girl in the fleet skiing. Here, Justin Zumwalt takes a turn on the surf board under the watchful eye of James Leishman and 19-year-old Jen Alloway from Canada, crew on Four Across, while Scott Shane drives.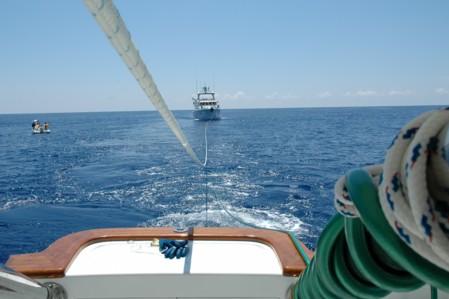 Step Three: Keep way on. Be patient.
Practice in flat water because not all will go according to wishes the first time around, as the crew aboard Atlantic Escort learned.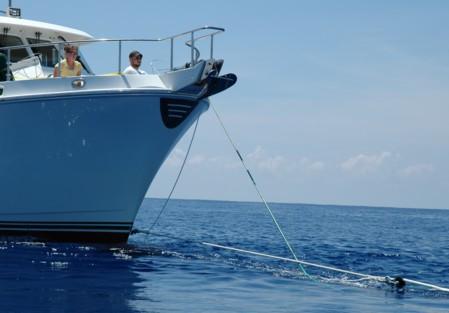 Step Two: Attach tow line to ring just above waterline. Pull the green water hose aboard.
Give one crew member the unhappy task of holding the hose for one hour and a half, the time it takes the transfer 200 gallons of water.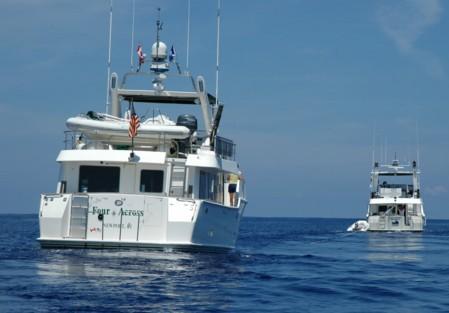 Step One in refuelling at sea, or, in this case, refilling water tanks aboard Four Across, suffering from watermaker ills:
Atlantic Escort takes Four Across in tow with 300 feet of heavy line.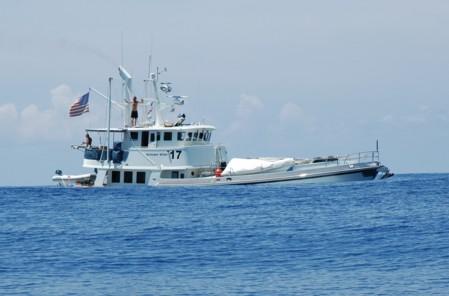 The ocean may be calm but it still heaves and swells. On the roof of the pilothouse, Brad Smith has the best seat in the house.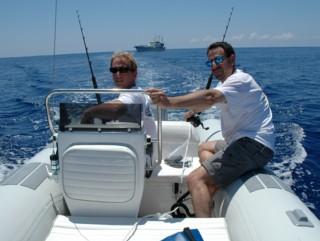 James Leishman of Pacific Asian Enterprises and Scott Shane of Yachting magazine pick me up in the Caribe inflatable from Atlantic Escort for a photo op: the refilling of water tanks at sea.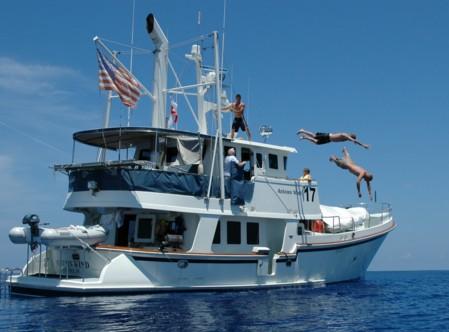 Try as I might, I never could get the Autumn Wind divers to jump in unison.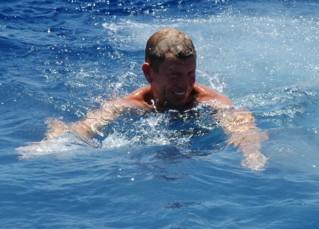 Brad Smith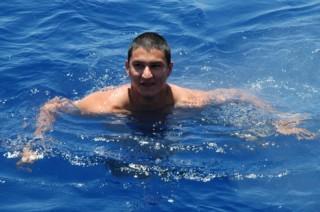 Mike Ronquillo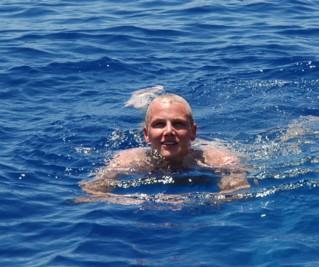 Eric Leishman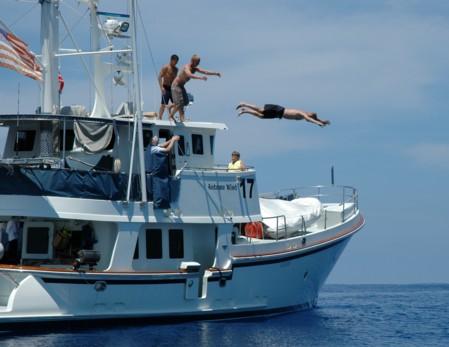 The third day of the passage is one of those unbelievable days at sea, when the water is so flat landlubbers would never believe it. Here, the boys of Autumn Wind dive into 17,000 feet of North Atlantic Ocean.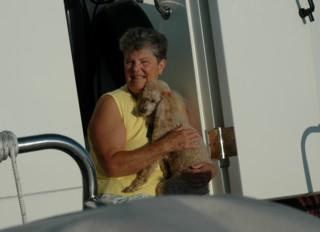 Every morning, weather permitting, Arline Smith takes the poodles out on the foredeck of Autumn Wind for them to conduct their business. When the weather turns lousy, the dogs use the aft deck, or the Portuguese bridge, or . . .


What is it about sunrise at sea that almost always drives us to grab our cameras?
Site see:
Trawler Transatlantic 2004-Welcome
Leg 1 Fort Lauderdale, Florida, to Hamilton, Bermuda:
Leg 1 photos Wednesday, May 26, 2004
Leg 1 photos Thursday, May 27, 2004
Leg 1 photos Friday, May 28, 2004
Getting ready to depart for the Azores
Leg 2 Hamilton, Bermuda, to Horta, Azores Sunday, June 6, 2004
Leg 2 Hamilton, Bermuda, to Horta, Azores Saturday, June 12, 2004
Leg 2 Hamilton, Bermuda, to Horta, Azores Sunday, June 13, 2004
Leg 2 photos Tuesday, June 15, 2004
Leg 2 photos Tuesday, June 20, 2004
Leg 2 photos Monday, June 28, 2004
Leg 3 Horta, Azores, to Gibraltar, Gibraltar Tuesday, June 29, 2004
Leg 3 Horta, Azores, to Gibraltar, Gibraltar Wednesday, June 30, 2004
Leg 3 Horta, Azores, to Gibraltar, Gibraltar Friday, July 2, 2004
A challenge well met Thursday, July 8, 2004
A challenge well met Friday, July 9, 2004